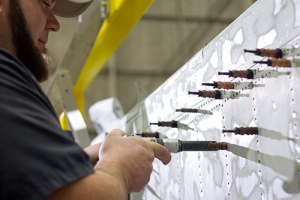 We are your "one-stop solution" for all Hawker 800 and higher series needs.
We offer top-quality craftsmanship from our complete maintenance facility in Bangor, Maine, where we have everything from the northeast's largest aircraft painting hangar to an onsite interiors shop, woodworking shop, and warehouse.
We offer 48-month checks, heavy maintenance, painting, interior refurbishments, avionic installations, and upgrades–all in one location. That, along with our extensive Hawker inventory right on site, saves you time and money.
Inquire Today about our Hawker Aircraft  Services
We also support your Hawker 800 with repair and overhaul of TKS panels and overhaul of primary flight controls and ancillary structures like leading edges, ailerons, flaps, gear doors, horizontal stabilizer, and airbrakes. In fact, we are the leading provider of these services worldwide.
Recognizing certain situations require quicker solutions, we have established an exchange spares pool designed to support both "quick turn" scheduled maintenance as well as commonly replaced LRU's and structural parts.
Our exchange services are available to operators around the world through our locations in Australia, England, California, and Maine.