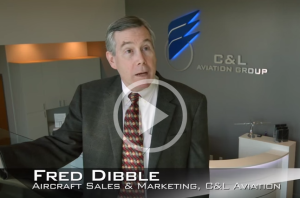 We are more than an aircraft broker. Our decades of experience in the industry has earned us trust, knowledge, and, most importantly, resources. All of which enables us to offer our clients incredible value for other services — services like aircraft re-marketing.
Fred Dibble, our re-marketing specialist, has spent the last 30 years of his career involved in engineering, manufacturing, marketing and sales of regional airliners. He has been involved with the design, production, marketing and sales of two of the industry's leading regional airliners.
With Fred's leadership, our professional staff members have become authorities on every aspect of aircraft re-marketing, including: identification of prospective customers, contract negotiation, and marketing material preparation.
We combine in-depth market knowledge and targeted marketing programs to make the process seamless and stress-free for our clients. Plus, we have everything we need–paint hangar, warehouse, interior shop, and more–here at our 120,000-square-foot facility in Bangor, Maine, to complete your re-marketing project on schedule and within budget.
To find out how we can get you the best value for your aircraft, please contact Fred Dibble.