Aircraft for Sale:
Saab 340B – MSN 277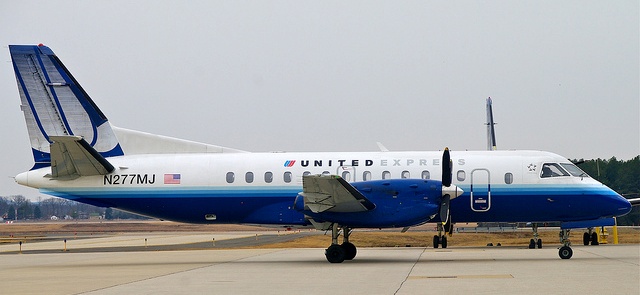 Saab 340B for Sale or Lease
This aircraft was in revenue service until July 2012 with a 121 operator and is currently on storage program.  This aircraft can be delivered in 'as is' condition or with fresh checks, paint and cabin refurbishment and is available for outright sale or lease.
Please contact, Jameel Wazir for additional information.
Summary
Serial Number:
340-277
Build Date:
1991
Total Time:
40908.7
Total Cycles:
47386
Seats:
34
Avionics:
Collins
Registration:
N277MJ
Registration Country:
USA
Engine Details
| L/H Engine | GE-E-785401 |
| --- | --- |
| Total Time | 35951.2 Hours |
| Total Cycles | 44511 |
| Time Since Last Service | 2960.7 Hours |
| First Limiter (Cycles) | 4611 |
| ECMP | Qualified |
| R/H Engine | GE-E-785201 |
| --- | --- |
| Total Time | 37620.8 |
| Total Cycles | 41776 |
| Time Since Last Service | 504.6 Hours |
| First Limiter (Cycles) | 6096 |
| ECMP | Qualified |
Propeller Details (Dowty)
| L/H Propeller | DRG/412/88 |
| --- | --- |
| Time Since Overhaul | 1563 Hours |
| Time Remaining | 5937 Hours |
| Calendar Due | TBD |
| R/H Propeller | DRG/1763/85 |
| --- | --- |
| Time Since Overhaul | 4315.6 Hours |
| Time Remaining | 3184.4 Hours |
| Calendar Due | March 2019 |
Landing Gear Details
| L/H Main | Serial # | CSO | Cycles Remaining |
| --- | --- | --- | --- |
| Shock Strut | LK9007855 | 7642 | 4358 |
| Drag Brace | LK9104095 | 7642 | 4358 |
| R/H Main | Serial # | CSO | Cycles Remaining |
| --- | --- | --- | --- |
| Shock Strut | LK9200879 | 0 | 12000 |
| Drag Brace | LK8908333 | 7760 | 4240 |
| Nose | Serial # | CSO | Cycles Remaining |
| --- | --- | --- | --- |
| Shock Strut | LK9500932 | 3166 | 8834 |
| Drag Brace | LK8905348 | 10539 | 1461 |
Inspections
| Hourly | Last Performed | Time Remaining |
| --- | --- | --- |
| 8000-Hour | 38653.7 | 5745 |
| 4000-Hour | 3653.7 | 1745 |
| 800-Hour | | |
| 400-Hour | | |
| Cycles | Last Performed | Cycles Remaining |
| --- | --- | --- |
| 30000/12000 Cycle | 39038 | 3652 |
| Calendar | Last Performed | Date Due |
| --- | --- | --- |
| 6 Year/ 4 Year | Fresh | 4 Years |
| 4 Year/ 2 Year | Fresh | 2 Years |
Configuration
| Item | Value |
| --- | --- |
| Class Breakout | 1 |
| Number and Location of Galley | 1 FWD |
| Number and Location of Lavatory | 1 AFT |
| Number of Crew Seats | 3 Cockpit, 1 Cabin |
| Aircraft Painting Scheme | United |
| FAR 121 Compliant | Yes |
| TCAS | Yes |
| TAWS | Yes |
| EOPS | — |
| FAR Part 36, Stage III Noise Compliant | Yes |
Operating Weight
| Item | Value |
| --- | --- |
| Maximum Take-Off Weight | 29,000 lbs |
| Maximum Landing Weight | 28,500 lbs |
| Maximum Zero Fuel Weight | 26,500 lbs |
| Operating Empty Weight | 19,291 lbs |
| Fuel Capacity | 5,690 lbs |
Avionics
| Nomenclature | Manufacturer | Model | Qty |
| --- | --- | --- | --- |
| ACARS | — | — | — |
| VHF Comm. | Collins | VHF-22A | 2 |
| VOR/ILS | Collins | VIR-32 | 2 |
| DME | Collins | DME-42 | 2 |
| TCAS Computer | Collins | TPU-67A | 1 |
| ATC (Mode S) | Collins | TDR-94D | 2 |
| Attitude Heading Computer | Collins | AHC-85 | 2 |
| FDAU | Teledyne | 70-251 | 1 |
| Passenger Address | Collins | 346D2B | 1 |
| DFDR | Lockheed | 1007 | 1 |
| CVR | Fairchild | FA2100 | 1 |
| Radar Transceiver | Collins | WXT25OB | 1 |