It's well established that the best time to get your aircraft painted is when it's already in for routine maintenance, usually during a heavy check. Sometimes, however, a paint job can't wait, especially when it might interfere with customers' first impressions. Whether you're in need of a regularly scheduled paint job or one that is more urgent, we have some tips on timing and selecting the right facility.
When to get new paint
"There is nothing that dictates that you can't fly because of your paint," says Paul Moore, Paint Manager at C&L Aviation. "But if a customer sees paint peeling or notices that the color has dulled, they might think it's an indication of what else hasn't been maintained on the aircraft."
In short: a good paint job is critical for the customers' confidence and comfort. In this way, paint can sometimes be an urgent matter, and most facilities require 2-3 months advance notice for scheduling.
Often, critical paint issues like corrosion are uncovered during heavy checks, which, if it's unplanned, necessitates the aircraft staying longer or coming back later when schedules permit in the paint hangar.
"Planning ahead and anticipating aging paint issues is key to preventing scheduling jams," says Calvin Tuitt, Senior VP of Business Development MRO for C&L Aviation.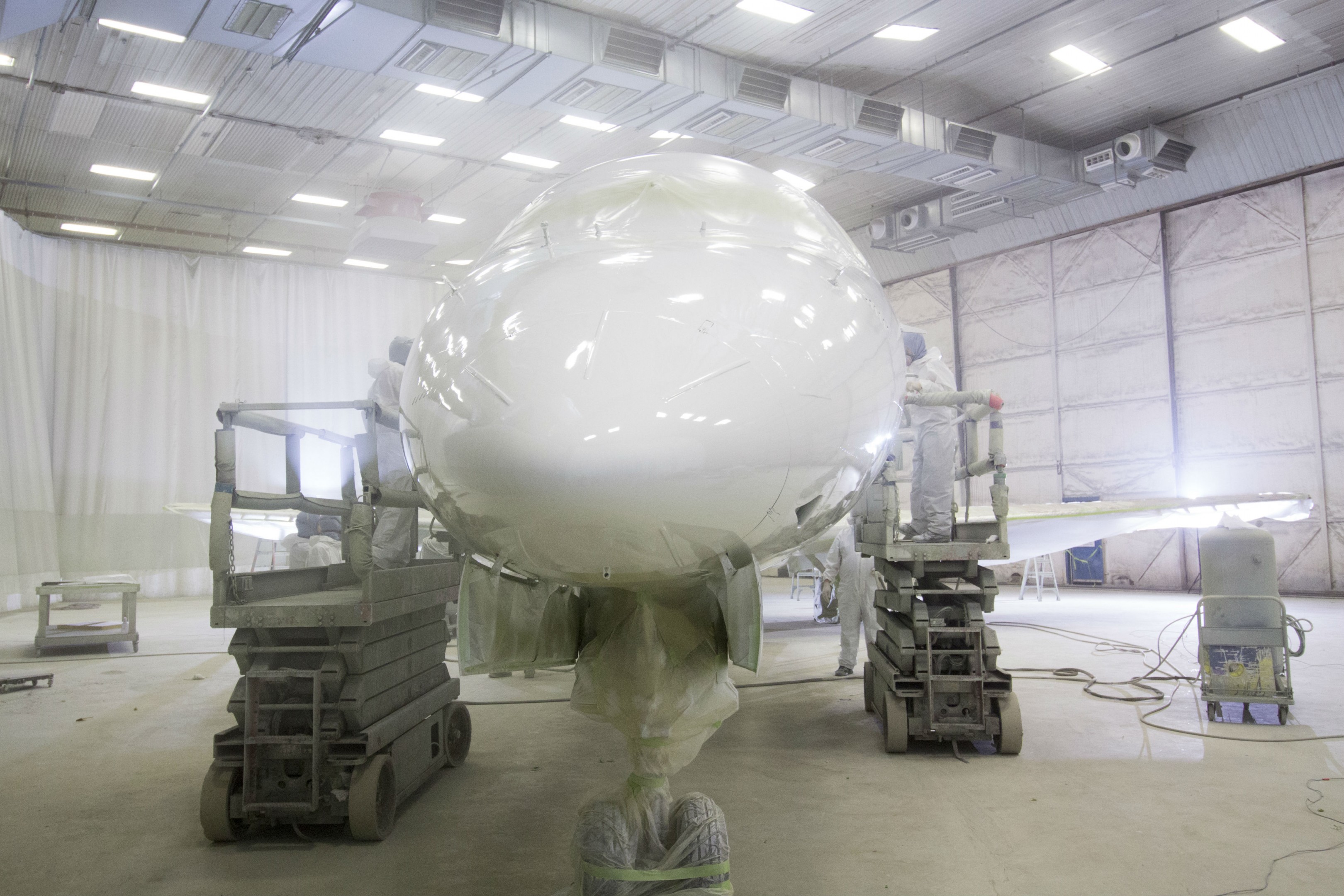 What to look for in a paint facility
Once new paint is necessary, there are a few things to consider when choosing an aircraft paint facility. First and foremost is the size. More capacity means less scheduling conflicts and more ability to accommodate any size aircraft.
It's also important to review the company's history of completing jobs on time. Ask for references. Talk to the Paint Manager about the paint they use and their philosophy about aircraft paint.
"We quote up to two weeks on most jobs," says Tuitt. "This might seem like more time than other places that are offering 8-day paint jobs, but we are committed to certain practices and techniques that ensure paint durability and longevity. We might take more time, but we won't need to see that aircraft again for 4-5 years."
Make sure that the facility paints all the placards instead of using stickers, which can peel and strip easily. And ask if the paint shop has the capacity and FAA qualification to remove flight controls and paint and balance them.
"A one-stop facility like C&L cuts down on the time an aircraft spends in the hangar because all the work—from the paint and placards to the flight controls and weight and balances – is done in one location," says Tuitt.
Ask how the old paint will be removed.
"Sanding old paint just removes the shine," says Tuitt. "It leaves behind much of the old paint, which can increase the aircraft's weight."
Why C&L Aviation?
C&L has one of the largest paint facilities in the Northeast. At 20,000 sq. ft., the hangar can accommodate multiple regional aircraft simultaneously, which increases the scheduling capacity.  Plus, a state-of-the-art, 3-zone airflow means that fewer particles are loose in the air, leading to a cleaner and more durable finish.
As a one-stop MRO facility, C&L has the training and FAA approval to remove flight controls and paint and balance them, and all work is done on-site at the Bangor, Maine, headquarters.
Plus, all work is overseen by Moore, who has more than 35 years of experience and a commitment to giving customers a quality finish the first time.
"When an aircraft leaves this hangar," says Moore, "I know my crew has given it an excellent paint job and that we won't need to see it again for many years. I believe in taking the time to do it right the first time, and no plane leaves here that isn't to my standards."
If 2018 is the year that your aircraft needs a new coat of paint, call our Paint Shop today and schedule a meeting with Moore.