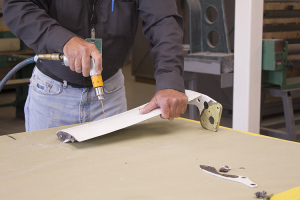 Our unique back-shop capabilities include complete fixtures and a DER developed supply chain required to refurbish flight controls such as:
Assemblies for elevators/tabs, flaps/vanes, ailerons/tabs
Assemblies for gear doors and fairings, main entry doors and door-stays
Leading edges
TKS panels (We stock over 200 TKS panels for flat-rate exchange in our Bangor and London Heathrow spare parts warehouses.)
We are an approved supplier and parts manufacturer for Beechcraft Service Centers, and we have OEM approval for replacement of aileron frames with new precision machined frames, reducing the need to scrap an aileron with severe frame corrosion or cracking. These are also offered on flat-rate exchange.
Most time-controlled (including landing gear) and on-condition rotables are on-the-shelf for same-day shipment anywhere in the world, and our Beechjet pool of spare parts is always expanding.