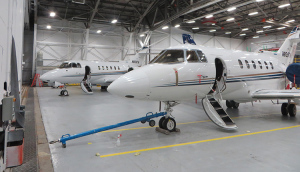 The value and reputation of your corporate jet relies on the quality of your aircraft maintenance program. Whether you need small aircraft repairs or heavy aircraft structural maintenance, C&L guarantees business aircraft MRO services at the highest standard. Over the last 20+ years we've built a full-service, private jet maintenance program that you can rely on for all aspects of aircraft maintenance in one single location. We have the tools and experience to complete jobs on a range of private jets including Challenger, Hawker, Beechjet and more.
Serving Private Jet Owners Around the World
Quality jet maintenance is an integral part of what we do for our customers. And we have everything we need here at our Bangor, Maine, facility to service your corporate aircraft without ferrying it to other locations, saving you time and money. Located at Bangor International Airport, our maintenance facility is one of the eastern most airports in the USA.
Whenever your business jets are in need of heavy aircraft repair, we are equipped and ready to take the best care of them at our Bangor facility. Our dedicated jet maintenance hangar features an overhead crane to support engine changes and tail removals. And our experience team of aircraft maintenance technicians will be sure get your corporate jet airworthy in no time.
Our Aircraft Maintenance Certificates
C&L is an approved EASA and FAA repair station (#145.6152 / #J2SR196J) so our technicians are experienced in taking aircraft from FAA registration to EASA registration, including installation of ADSB. We are also an authorized dealer/installation center for several products, including Universal Avionics, Garmin, True Blue Power, BonGiovi, Gogo and more.
Explore Our Corporate Aircraft Maintenance Services
While flying fewer annual cycles might mean your business jet can go longer in between maintenance visits, all aircraft eventually need a pitstop for repairs and inspections to keep them in top shape. You may also find yourself wishing for avionics upgrades, interior enhancements, and other add-ons to take your corporate jet to the next level of comfort and luxury. From routine private jet maintenance to emergency repairs, full overhauls, or updated styling, we've got your back when it comes to aircraft repair. See below for our range of aircraft maintenance capabilities.
Exterior Jet Maintenance
Heavy Aircraft Maintenance
Propeller Maintenance
Avionics Upgrades
Interior Aircraft Refurbishment
Galley Updates
Lavatory Replacements
Cockpit Refurbishment
Side Panel Installation
Entertainment System Integration
Acoustic Packages
Carpet and Seat Reupholstery
LED lighting upgrades
You can learn even more about our corporate jet interior services, our interior refurbishment facility, and see examples of our past work on our dedicated aircraft interior refurbishment page.
Partner with C&L for Your Ongoing Private Jet Maintenance
We want to get to know you and your jet's needs so that when it's time for aircraft maintenance, we're prepared to provide the best services for your specifications. Get in touch with us via the contact form below or reach out directly to our corporate aircraft maintenance team to start your new partnership for everything aircraft repair.
Contact C&L Aviation Group
We are happy to answer your questions. Contact us using the form below, and someone will get back to you as soon as possible.