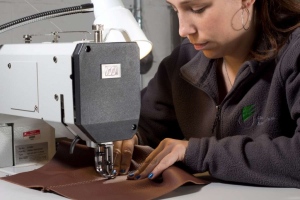 Coastal Maine is noted for its fine interior craftsmen, especially in the custom yacht industry, which features interior designs and advanced materials that rival those found in corporate aircraft interiors.
This cross-over benefits our customers and enables our team of designers, engineers and fabricators to offer exquisitely finished and detailed upholstery, cabinetry and woodworking to meet even the highest expectations in corporate aircraft interiors.
Our interior team members have OEM training and decades of experience. Our senior staff includes the former head of interior design at Gulfstream Aerospace (Savannah/Long Beach) with completion management experience on Bombardier Global Express and Challenger aircraft.
Our onsite upholstery and cabinetry shops feature state-of-the-art equipment that can handle any project, from a simple replacement of soft goods to major recompletion involving a new cabin floor plan.
We specialize in the following aircraft:
• Hawker Series
• Challenger Series
• Beechjet 400
• Citation Series
• King Air
• PC-12
• and many more…
Our facility also offers an interior design showroom, complete with new video conferencing technology to make design and material approvals easier and turnaround times faster.