What makes top-quality aircraft painting is not only a visually flawless finish but also a jet paint job that maximizes durability and minimizes corrosion. C&L combines top-tier workmanship with the best materials to provide aircraft painting services that result in an immaculate finish for your regional jets.
Your regional fleet carries your brand identity and integrity, making excellent airplane paint jobs crucial to their maintenance. Brush up your regional jet's signature paint scheme, update your design to advance your branding, and protect your fleet from corrosion with C&L's aircraft painting services. We boast one of New England's largest facilities, a staff of aviation painting experts, and a two-year warranty on airplane paint jobs. You have our word that your regional jets will leave the hangar fully refreshed and protected.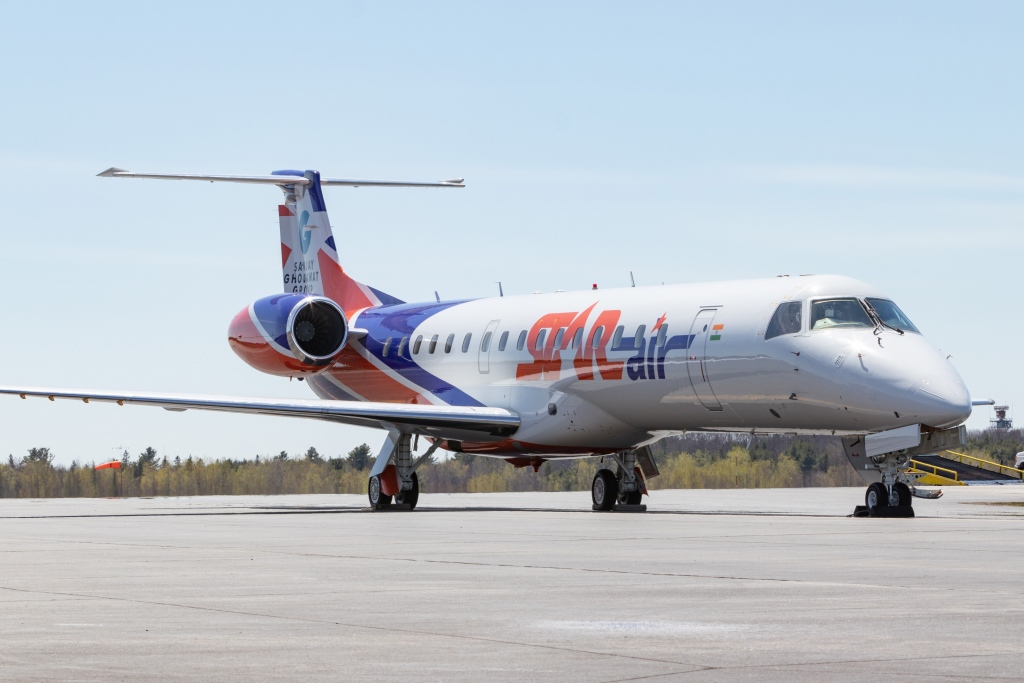 Mix and Match Regional Aircraft Painting Services
Aviation painting is so much more than just throwing a fresh coat on top of your regional jet's exterior. A quality airplane paint job often goes hand in hand with design services, repairs, wear prevention, and more. We keep the C&L facility up to date on current and anticipated local, state, and federal regulations so that your regional fleet meets the necessary standards every time they exit our hangar. Consider us your one-stop-solution for all aircraft painting services.
Sand or Chemical Strip Capability
Corrosion Control
Composite Repair
Metal Polishing
Registration Changes
All Major Coating Systems
Flight Control Removal, Balance, and Reinstall
Weight and Balance After Paint
Painted Placarding to Increas Longevity
Finish and Detail Work
Livery/Logo Design
Regional Jets We Work With
Our skilled painting and finishing crew have worked with regional jets A to Z, giving new life to outdated exterior paint schemes and protecting regional jet exteriors for their many flights ahead. Check out the variety of aviation painting projects we've had a hand in and get some inspiration for your regional aircraft paint design on our jet-specific pages below.
The C&L Painting Hangar
As one of the largest service stations on the East Coast, our aircraft painting clocks in at 20,000 square feet. It can easily accommodate two regional jets at the same time. We staff our hangar with a team of OEM-trained paint technicians specializing in regional aircraft painting and finishes. C&L also recently added several custom features to our painting hangar that gives us maximum control to create the ideal environment for a quality and speedy finish.
20,000 Sq. Ft. EPA-Approved Paint Hangar
3-Zone Airflow System
Heated Floors
Advanced Temperature & Humidity Control
Our Regional Aircraft Painting Process
Anytime you work with C&L regional jet paint jobs, know that we have the skills and equipment to carry out your vision and the experienced aircraft paint design professionals to help you develop unique jet paint schemes. Our in-house design staff will begin the aircraft painting process by working with you to outline modern airplane paint schemes that will refresh your regional fleet's aesthetics.
To ensure your regional jet gets the flawless finish it deserves, we never skip a step in the aircraft painting process. Control surfaces, inspection panels, fairings, and moldings are removed to be cleaned and painted separately. We also protect windows, antennas, and all other openings before the process begins.
After solidifying the design, our team starts by meticulously stripping off the old paint coat for a fresh start. Once the stripper has been cleared away, we can begin sanding and washing. The whole team works together to thoroughly sand and clean every nook and cranny of your regional jet's exterior, including seams and rivet lines. Our mechanics need this clear view of the metal body to inspect the airframe for underlying corrosion or damage that needs to be addressed. Once all repairs are made, we often apply a layer of high-build primer and repeat the sanding step to give your jet an ultra-smooth finish.
When the surface is completely prepped, we block out your branded paint scheme and begin applying the final colors. The main coats dry before our painting crew completes any minute adjustments and finishing touches by hand. With this detailed aircraft painting process, we can ensure that every jet we refinish leaves our painting hangar with an immaculate finish.
Contact C&L Aviation Group
We are happy to answer your questions. Contact us using the form below, and someone will get back to you as soon as possible.