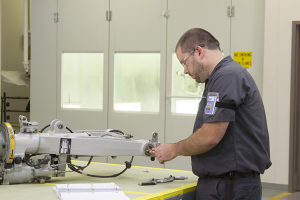 Our technicians are skilled at repairing structural items such as flight controls, flaps, leading edges, panels, and air stairs on aircraft such as the ERJ 135/145, ATR 42, 72, Dash-8, Saab 340, Challenger 600 Series, 800 Series, BeechJet 400, and more.
View our full list of certifications here
Our technicians repair and overhaul the following types of components:
Emergency, power supplies
Electrical sensors and switches
Batteries, including main ship batteries, emergency light battery pack, and standby emergency battery pack
Fuel injectors – CT7
CT7 engine, including bore scope and QEC build-up
Propeller repairs and regrease (Saab Dowty propeller)
Hydraulic component repair and overhaul (5606)
TKS panels (We stock over 200 TKS panels for flat-rate exchange in our warehouses strategically located around the world )
Dash 8 leading edges
Flight control assemblies including elevators, flaps, and ailerons
Landing gear fairings, main entry doors, and door-stays
Assemblies and harnesses for wiring and cables
Component shop capabilities:
Painting
CNC machining
Welding
Hydraulic press brake
GSE fabrication
Sheet metal fabrication
NDT Inspection, including eddy current, ultrasound, florescent penetrant, and X-ray
Roto flap peening
Wire stamping and harness fabrication
Contact C&L Aviation Group
We are happy to answer your questions. Contact us using the form below, and someone will get back to you as soon as possible.