Your private aircraft interior and cabinetry should establish the aesthetic you want to project to your passengers. From traditional woodwork to trendy patterns, hydrographics allows you to re-imagine your aircraft interior and re-define business jet experiences.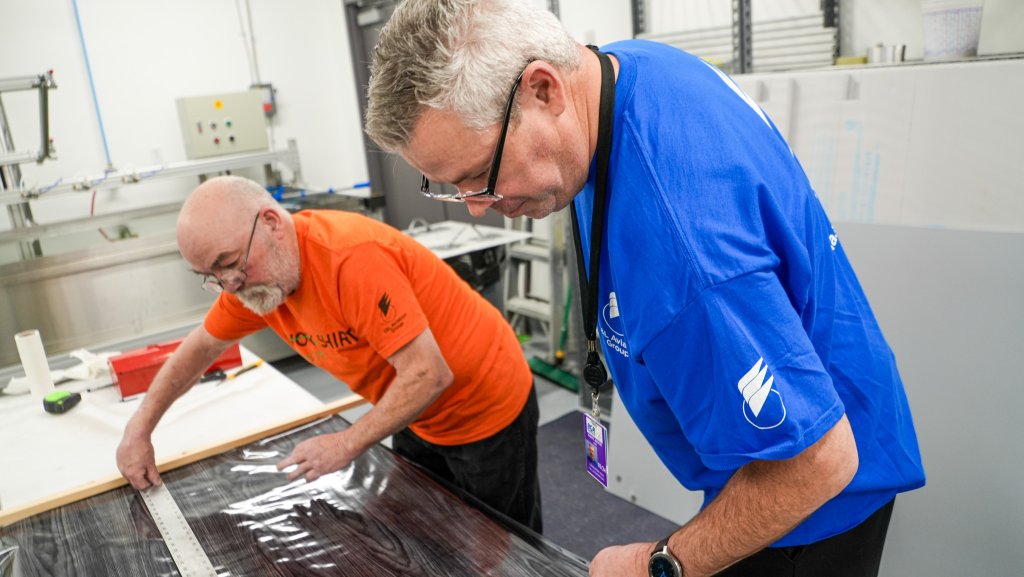 C&L Aviation Group is fully equipped with the machinery, technical expertise, and capacity to hydro dip almost any sized piece of corporate or regional aircraft cabinetry, including:
Bulkheads
Doors
Cabinets
Tables
Accent Pieces
Drink Rails
Countertops
Galleys
Lavatory Sinks
Sidewalls
And More
About the Aircraft Hydrographics Process
Hydrographic technology, also known as water transfer printing, is the process of applying a repeatable pattern or artwork onto a sturdy material capable of being submerged. A water-soluble film is laid on top of the water and is sprayed with an activator that makes the printed pattern able to adhere to the dipped items. After the items are dipped, they are rinsed, dried, and sprayed with a protective clear coat.
Benefits of Aircraft Hydrographics
Compared to replacing real wood veneers on aircraft cabinetry, hydrographics offer a cost-effective and quicker alternative with durable and long-lasting results. Plus, hydrographics provide endless possibilities, allowing customers to choose from various base coats and patterned films to create unique combinations and appearances.
Cost-effective
Short downtime
Customizable possibilities
Durable and long-lasting
Lightweight
Choose from a large selection of film patterns, or ask us about creating your own unique film! C&L works with you to design, approve, and print your specialized pattern.
At C&L, we believe in a one-stop solution where all required services and installations are completed at our facility. We offer several interior refurbishment services, including seat design, leather upholstery, and foam builds; repair and recovery of sidewall panels, headliners, and ceiling panels; carpet replacement; custom cabinetry; LED lighting; and more.
Aircraft We Specialize In:
Challenger
Hawker
BeechJet
Citation
Piaggio
Legacy
ERJ 135/145
CRJ 200/700
Saab
ATR 42/72
Dash-8
And More
For more information about the aircraft hydro dipping process, durability, and customization, or to receive a quote for your next project, fill out the contact form below. Also, check out our article about hydrographics.
Contact C&L Aviation Group
We are happy to answer your questions. Contact us using the form below, and someone will get back to you as soon as possible.