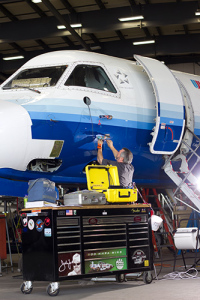 We are the world leader for Saab 340 support, and we are committed to reducing aircraft operational costs by customizing our services to the needs of each individual Saab 340 operator.
It all starts with the right aircraft. Jameel Wazir, our Executive Vice President of Business Development, has more than 30 years of experience in regional aircraft sales and leasing. Jameel helps our clients find the best aircraft for their operation.
Next we provide comprehensive inspections by qualified, experienced technicians. No aircraft leaves our hangar that we wouldn't be comfortable putting our family in.
But our commitment and relationship with you, the operator, continues with spares support, development of repair schemes, and ongoing technical support. Each individual plan is customized to the operator's needs.
Parts
From an individual part to our 'power by the hour' program, our specialist part support program can be tailored to suit the specific needs of operators. And with strategically located warehouses across the world, we can provide operators with 24/7, global parts support . All our warehouses are well-stocked with Saab 340 airframe, avionics, and engine spare parts.
Support
We have a team of engine, airframe, and avionics mechanics who are available to travel to any customer's facility or to any remote location to provide maintenance, structural repairs, or troubleshooting–even on a moment's notice.

Our full line of Saab 340 Support offerings includes:
Spare Parts Supply
Initial Provisioning
Heavy Maintenance
Field Service Support
Parts Lease
Repair Management
Tooling
Power by the Hour Programs
Distribution of OEM Product
Pre-Purchase Inspections
Aircraft Marketing and Sales
Aircraft and Engine Leasing
Aircraft Painting
Contact C&L Aviation Group
We are happy to answer your questions. Contact us using the form below, and someone will get back to you as soon as possible.