As you know the world of aviation is changing. Better, more accurate navigation systems are making aircraft flying, takeoffs, and landings safer than ever. Part of that is because of the push toward full adoption of WAAS systems and LPV landing approaches.
What is WAAS?
WAAS, which stands for "Wide Area Augmentation System" is an incredibly accurate air navigation system developed by the FAA with the goal of improving its accuracy, integrity, reliability, and availability. It utilizes global positioning satellites and geostationary (earth-orbiting) satellites to improve the GPS navigational service to allow aircraft to rely on the Satellite-based augmentation system (SBAS/GPS) for all phases of flight including landing approaches. The accuracy of the WAAS system when determining the position of your aircraft is within 3-6 feet.
What is LPV?
LPV stands for Localizer Performance with Vertical Guidance. It is the most common and most desirable approach when coming in for a landing at a US airport. It is incredibly precise and can only be done with a WAAS enabled system.
Why you will want to switch to Universal SCN-100x.x Series WAAS LPV.
It's because of this precision that aircraft and avionics manufactures are moving away from older navigation systems in favor of WAAS-enabled systems. Is your aircraft still relying on outdated Universal SCN600 and SCN800 series software? If so, you will want to pay particular attention to the rest of this article as it will help guide you through some changes that we recommend.
Universal Avionics has Discontinued Support for SCN 600 and 800 Series FMS Units
Universal Avionics has discontinued repair on UNS 1C, 1C+, 1Csp, 1Csp+, 1D, 1D+, 1K, and 1K+ FMS Management Units, as was previously announced through service bulletin number 2902, 2903, and 2904.
As a result, SCN600 or SCN800 series FMS units were canceled at the end of 2020. Also, Universal is no longer be selling new units or fixing/supporting existing systems.
While the FAA has not mandated upgrades to a SCN1000-series WAAS enabled LPV unit, there are many reasons to make the switch.

Why switch to a Universal Avionics WAAS Enabled LPV system?
You may be asking yourself, "if it ain't broke, why fix it?" And that's a fair point to make, for now. But there are plenty of reasons to consider upgrading your Universal Avionics Flight Management system now.
Universal has said with their bulletins that they will be providing limited support on existing SCN600 and SCN800 series units after December 2020. The reason for that is because they are essentially, running out of replacement parts for these units. Parts for these antiquated systems are no longer being produced, so there is a very good chance that if your existing system malfunctions in the near future (and many do), that there will be no replacement parts available to correct your issue.
What this also means is that airports, who pay for expensive monitoring and approach systems, will no longer be updating and maintaining their older, ILS approach capable systems. Airports, just like aircraft are converting to systems that rely on WAAS LPV stations. In fact, the FAA has published nearly 7,000 different approach charts for WAAS capable aircraft that cover 1,900 airports in the United States, most of which do not have an ILS approach capability. That means that if your aircraft does not have an upgraded Universal Avionics WAAS/LPV capable system, you may not be able to land at those airports.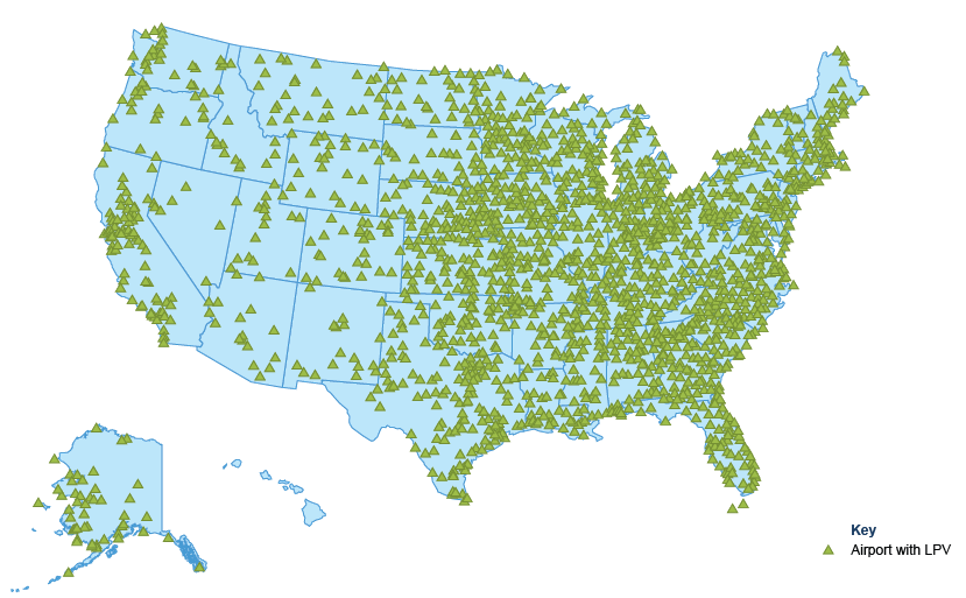 How not having a WAAS Enabled LPV System can cost you extra money.
In many cases, airports will divert or detour the landings on non-WAAS enabled aircraft, giving priority to aircraft landings that have a more updated system. In this case, you may find yourself circling the airfield for anywhere from 5 minutes to almost an hour. In these instances, a considerable amount of fuel is burned off while you remain in a holding pattern waiting for your turn.
WAAS/LPV is paving the way for the future.
Another point to take into consideration is if you plan to travel over the ocean with your aircraft. In order to cross the Atlantic or Pacific Ocean you need a future air navigation system (FANS) such as a FANS/CPDLC (controller pilot data link communication). In order to upgrade to FANS, you first must have WAAS enabled aircraft.
How C&L can help you convert to a Universal SCN1000 Series WAAS/LPV System?
At C&L, we understand the "Nextgen" changes happening in your aircraft's avionics, and the need to stay ahead of the changing navigation requirements for SBAS/GPS systems. And as a dealer and Installation/Service Center, for Universal Avionics products and software, we are able to fully support your transitioning into an upgraded Universal Flight Management System, SCN1000 Series WAAS/LPV/SBAS System.
Universal Avionics SBAS-FMS is the first step in preparing for NextGen. It will also enable PBN, (Performance Based Navigation), and Data Comm, including CPDLC and CPDLC DCL, (Controller Pilot Datalink Communication) with Delivery Clearance Departures. With the upgrade of this equipment, it's the perfect time to invest in your aircraft. Enjoy having your aircraft "Best Equipped, Best Served" today.
C&L has partnered with Universal Avionics to save you money for upgrading.
As an authorized Universal Avionics Systems Dealer combined with our exclusive incentives and trade-in credits, we can offer you an exclusive deal unlike what you will find elsewhere for replacing your outdated system. Speak with our Avionics Sales Manager Charlie Carroll today to learn more.
Our professional technicians can provide these upgrades and other turnkey packages that include, engineering services and FAA approvals of these types of installation upgrades for many aircraft.
Interested in converting a fleet of aircraft? We also offer upgrade financing for those with multiple aircraft.