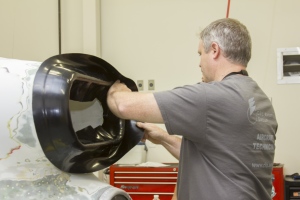 We specialize in supporting Dash 8 operators with a complete range of services that can be customized to reduce aircraft operational costs and down time.
For new operators, that service begins with a comprehensive inspection by a qualified, experienced technician. From there, our team will help you determine an appropriate spares support plan and develop a repair scheme that provides ongoing technical support.
Our comprehensive specialist part support program can be tailored to suit the specific needs of operators. For the Dash 8, this includes repair and overhaul of structural components such as flight controls, doors, leading edges, etc. As an authorized installer, we also offer de-ice boot replacement.
Plus, our team of engine, airframe, and avionics mechanics are available to travel to any customer's facility or to any remote location to provide maintenance, structural repairs, or troubleshooting.
We Offer:
Repair and overhaul of structural components
Structural repairs and modifications
Spare Parts Supply
Initial Provisioning
Heavy Maintenance, Paint and Interiors
Field Service Support
Repair Management
Tooling
Distribution of OEM Product
Pre-Purchase Inspections
Aircraft Marketing and Sales
Aircraft and Engine Leasing