We buy, sell, exchange, and lease regional aircraft engines.
We have particular, extensive knowledge of CT7, CF34, and PWC engines, and we are both the largest supplier and world's largest inventory holder (outside of the OEM) of CT7 engine parts, used on the Saab 340, Casa 235, and Bell 214ST aircraft.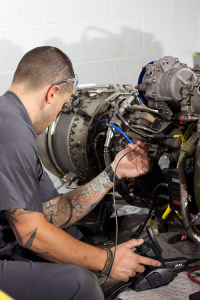 We operate a large pool of engines for short- and long-term lease. We can also exchange engine modules and LRUs.
If you have a particular engine need, please contact Eric Kepple in technical support.
Parts
We have disassembled more than 50 engines for parts, and we have purchased large surplus inventories. All of our parts are supplied with an 8130/EASA release or OEM certification from GE or a GE-authorized repair facility.
We invite you to submit your engine repair cost estimate so that we may quote the supply of all necessary spare parts. We can offer a substantial discount from the list price on these and individual spare part purchases. We also provide all engine LRU's for outright sale, lease or exchange.
We support the following CT7 engine models:
CT7-5A
CT7-7A
CT7-9B
CT7-9C
CT7-2A
Engine Sale or Exchange
We help you avoid the high costs of repair through our engine exchange and purchase programs. It is our practice to keep a number of engines in stock, offering a choice of fresh-from-refurbishment and time continued options.
Every engine is supplied with a complete history report. Most of our CT7 engines are qualified for GE's ECMP program. Click here for a current list of CT7 engines for sale.
Engine Lease
We purchased the pool of GE CT7 engines and now have them available for lease to customers around the world, including ECMP customers. We have 16 engines available for short-term or long-term lease.
View Regional Engines For Sale
CT7 Engine Management that saves you time and money.
At C&L, our extensive knowledge of the CT7 engine combined with our robust inventory of parts and close relationships with global repair vendors and suppliers make us an ideal partner in managing your CT7 Engine repairs.
Benefits of using C&L for your CT& Engine Repair Management:
Extensive inventory of readily available engine parts on-site with multiple repair shops, which equates to improved turn times and reduced supply chain issues
We have long-standing relationships within the industry which allow us flexibility in offering cost-saving and expedited engine returns
Ability to advise on all shop issues, both major and minor repairs
Contact C&L Aviation Group
We are happy to answer your questions. Contact us using the form below, and someone will get back to you as soon as possible.