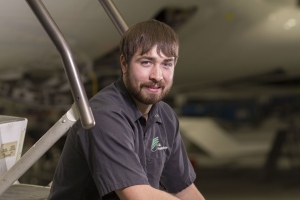 Tyler Clukey recognized for his commitment, leadership and customer service skills
C&L is pleased to announce that Lead Aircraft Technician Tyler Clukey has been named one of AMT Magazine's "40 Under 40 Aircraft Maintenance Professionals," a yearly designation for the Next Gen Award, which recognizes 40 of the most standout individuals in the next generation of technicians. Tyler's commitment to advancement and desire to learn, plus his leadership and customer service skills, were among the reasons that he was selected for this award.
"Tyler truly is a model for the next generation to follow," said C&L Director of Maintenance Phil Miholovich. "Tyler is the kind of employee that every manager wants to have because our customers benefit from his professionalism and dedication."
Tyler joined C&L straight out of high school in 2012. Early on, as an aircraft cleaner, he expressed interest in learning aircraft maintenance and joined C&L's apprenticeship program. After receiving his A&P certificate, Tyler accepted a project lead position.
"Today, Tyler is known for going the extra mile," Miholovich said. 'He is usually the first to volunteer to work overtime, no matter the circumstances, if it means getting the job done and satisfying the customer's needs. And Tyler gets excited when challenged with new fleet type projects. He is always forward thinking to improve the overall performance."
AMT's Next Gen award began in 2015 in order to highlight up-and-coming individuals in the field. Winners come from the various segments of the industry that the magazine is known for covering: military aviation, business aviation, MRO, rotorcraft, general aviation, and airlines. The 2017 winners are featured in the November/December issue.