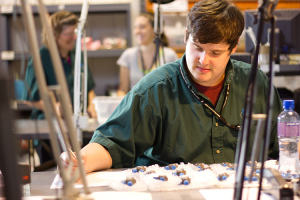 We have created an expansive and specialized aircraft parts inventory for the Saab 340 aircraft and CT7 Engines, including the CT7-2A, CT7-5A, CT7-7A, CT7-9B, and CT7-9C.
We also stock parts for other aircraft such as the Beech 1900, ERJ145, Dash 8, and CRJ, and we have parts for engines, including CFM56, T56, JT8 and CF34.
Our reputation as the world's best service provider for these brands reinforces our outstanding level of aircraft operations support in terms of technical knowledge, inventory and programs that directly support our customers operating these aircraft and engine types.
We perform an extensive inspection of every part as it is received in our warehouse. Before they are inventoried, each part is photographed, and we scan the associated documentation. Both the part and the documents are barcoded and scanned into our electronic location system. These are then available on our website and also provided as links on all of our customer quotes.
This results in our customers being able to see what they are getting before they order it. Quick location and shipping means our customers receive their items faster, too.