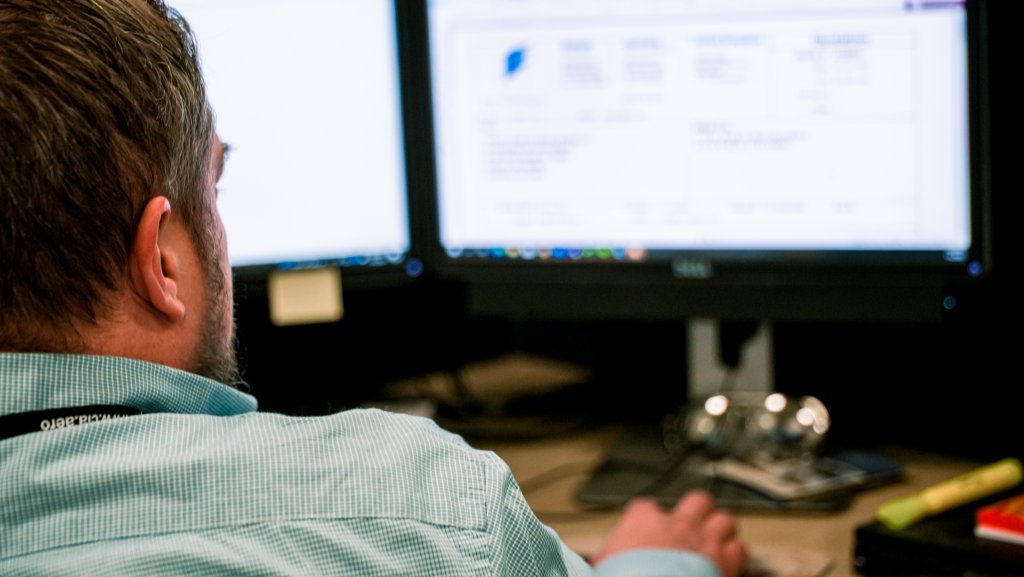 If you have tried to purchase aircraft parts, you probably have heard the words "outright" and "exchange." If you are wondering what these options are and – more importantly – which one you should choose, you have come to the right place.
We know a few things when it comes to buying and selling aircraft parts through outright purchase or exchange. We also recognize that knowing which one to choose will depend on your needs and how you prefer to make payments.
In this article, we describe outright purchase and the three exchange options so that you can make an informed decision every time you need to purchase a part.
What is the Outright Purchase of an Aircraft Part?
Purchasing a replacement part outright is the most straightforward option: you pay the part's outright value (or full market price) and the part is shipped to you to keep.
This option is beneficial to those who prefer to know the price of the part upfront and will not have to pay an additional bill.
Purchasing a part outright will be your only option if you are procuring an expendable or consumable part (can only be used once). You may also have to purchase outright if you do not have a core to be offered in exchange.
What are Exchange Options for Aircraft Parts?
With an exchange, you would purchase an aircraft part for an exchange fee (a lower price than buying outright) and trade an unserviceable part that has been removed from an aircraft (known as a core).
The exchange fee is charged for the convenience of getting a repaired or overhauled replacement part immediately and not having to wait for the core to be repaired. The exchange fee is typically figured as a percentage based on the outright value of the part. This percentage will vary by supplier.
You'll pay both the exchange fee and repair or overhaul costs for the core you supplied. Whether they will be two separate bills or one that covers both expenses will depend on the exchange option. Expenses to repair or overhaul a core should not exceed the core value; otherwise, the core will be deemed beyond economical repair (BER). If the core is BER, you'll be billed the "core charge," which is basically the outright value of the part.
Exchange options are beneficial for buyers because they can have an unserviceable part traded for a serviceable part. This means that the part can be utilized on the aircraft immediately.
Cost Plus Exchange
With a Cost Plus Exchange, you would pay a lower dollar exchange fee on the front end of the transaction. After repairs or overhauls have been completed, you would then pay for those charges in full. The costs should not exceed the core value.
Flat Rate Exchange
In a Flat Rate Exchange, repair or overhaul cost is included in the exchange fee. In other words, you'll pay a single, inclusive price upfront. Most of the time there will not be an additional bill, except for certain exceptions.
Standard Exchange
With a Standard Exchange, suppliers offer an exchange fee that includes a set "standard" cost to put towards certain repairs or overhauls that is not to be exceeded. If repair or overhaul costs do exceed this standard amount, the client will be billed the difference, known as over and above (O&A) charges.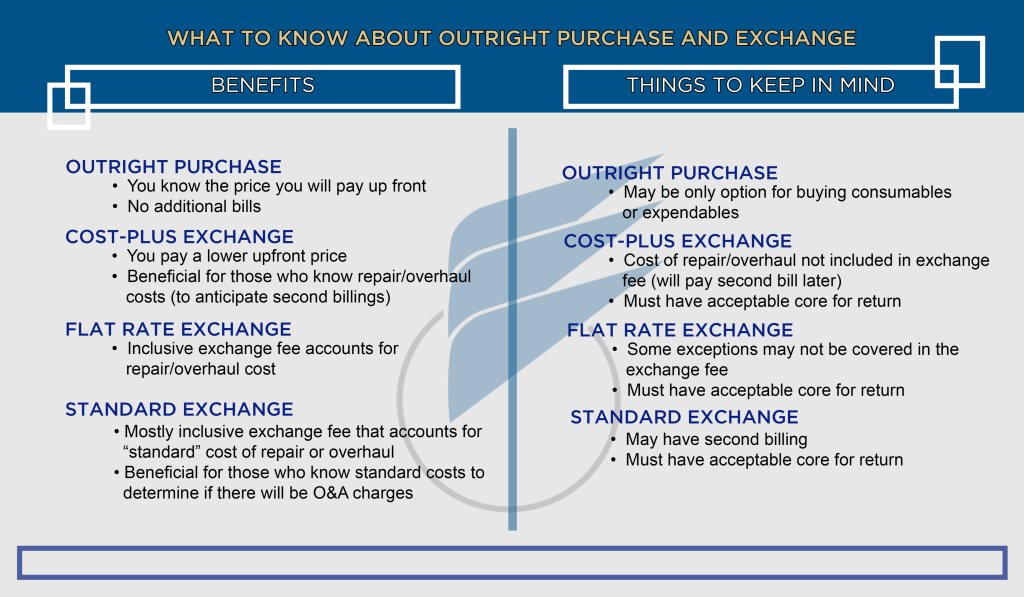 5 Tips to Consider When Purchasing Aircraft Parts
Now that you know about outright purchase and exchange options, you can make more informed decisions when purchasing aircraft parts. We leave you with a few additional tips about purchasing aircraft parts outright or on exchange.
Shop around to avoid overpaying for a part being offered above the outright value
Obtain inspection findings from suppliers – these are the documents they use to substantiate the bills they charge you
Know the condition of your core and the typical repair or overhaul charges for that part to avoid unexpectedly high or additional costs
Cores should only be repaired or overhauled to the same condition as the exchange unit – if you purchased a repaired part, you should not be paying for the core to be overhauled
Know what the suppliers will cover in their exchange fees to avoid paying hefty bills later
Know Your Aircraft Terminology
Aviation maintenance uses specific terminology. The following are common terms used when purchasing aircraft parts and exchanging cores.
BER Condition – A part deemed beyond economical repair (BER) cannot be feasibly repaired or overhauled and cannot be used in an exchange.
Core – An unserviceable part removed from an aircraft, known as the core, is swapped for a replacement serviceable part in an exchange.
Core Value – The core value is the difference between the exchange fee and outright value.
Exchange Fee – The initial, upfront exchange price is known as the exchange fee.
New Condition – Parts labeled as being in new condition have never been used and have no operating time or cycles.
Overhauled Condition – Parts labeled as being in overhauled condition have been reconditioned per manufacturer requirements.
Outright Value – The outright value is the market value of the part. This is the price you would pay if purchasing the part outright.
Repaired Condition – Parts labeled as being in repaired condition were previously faulty and have been fixed.
Contact C&L Aviation Group
We are happy to answer your questions. Contact us using the form below, and someone will get back to you as soon as possible.