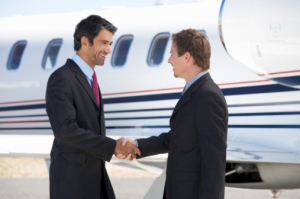 We specialize in the sale or lease of regional aircraft–particularly the Saab 340, ERJ, and CRJ regional jet aircraft–and we provide a range of services to add value to any prospective aircraft buyer.
We've been involved with the regional-aircraft sales market for more than 20 years, which means our prospective buyers benefit from direct access to resources not usually available from the average aircraft broker. We've also built a facility that includes everything onsite and at-hand — maintenance hangar, paint hangar, warehouse, interior shop — needed to get an aircraft into revenue service.
The results are quicker regional aircraft sales/leases.
Our professional staff also is the authority on all aspects of aircraft re-marketing, and we act as an exclusive agent for our clients. With our in-depth market knowledge and targeted marketing programs, the process is both seamless and profitable for our customers.
For our clients, we: identify prospective customers, negotiate contracts, and prepare marketing materials. We can also negotiate lease extensions, revisions, and off-lease return conditions.
Our Executive Vice President Jameel Wazir has more than 30 years of sales and marketing experience and is an expert in brokering sales that ensure the customer enjoys competitive pricing and a solid return on their investment. Jameel's strong business relationships and a vast network in Asia, The Middle East, Africa, and Europe are invaluable assets when working for you.
We Offer:
Aircraft Re-marketing
Asset/Lease Management
Aircraft Acquisition
Aircraft Evaluation
Consulting
Contact C&L Aviation Group
We are happy to answer your questions. Contact us using the form below, and someone will get back to you as soon as possible.