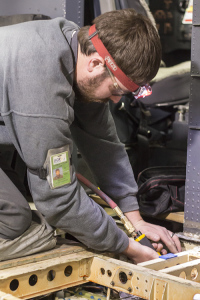 We perform maintenance on regional aircraft, including the ERJ 135/145, CRJ 200/700, Saab 340, Dash 8, and more, and we release these aircraft to service under both FAA and EASA certificates.
Our Bangor, Maine, facility is located at Bangor International Airport, one of the most eastern airports in the USA. Our satellite locations and warehouses are strategically placed around the world to better serve our customers on a moment's notice. This makes us a cost-effective option for U.S. and Canadian operators, and European-based operators can especially benefit from our lower hourly rate, competitively priced onsite inventory and the wider availability of parts in the United States.
Our technicians are experienced in taking aircraft from FAA registration to EASA registration, including installation of ADSB, and we are an authorized dealer/installation center for several products, including Universal Avionics, Blue Sky Network, Gogo and Michelin Tires.
We can do any type of aircraft maintenance, from complete refurbishments that match an owner's or company's style and tastes to overhauls that accommodate an aircraft's function.
We can perform full maintenance and complete interior refurbishments, including:
Exterior
Heavy Maintenance
Structural Repairs
Painting
Propeller Maintenance (including the five-year regrease on the Saab 340 Dowty propeller)
Avionics Upgrades
Interior
Galley
Lavatory
Cockpit
Side panels
Overhead bins
Carpet and Seat Re–upholstery
LED lighting upgrades