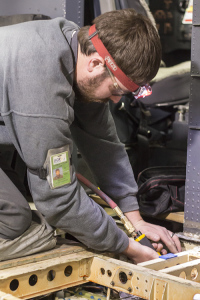 When your regional airliner needs maintenance, upgrades, or new registrations—which you know it will—you don't want to travel between service stations to finish the job. We've worked hard over the last 20+ years to make C&L Aviation the full-service aircraft maintenance company that your fleet can rely on for all aspects of aircraft refurbishment. C&L offers any type of aircraft maintenance from individual aircraft repair jobs to complete refurbishments on a range of regional jets and turboprop aircraft including the ERJ 135/145, CRJ 200/700, Saab 340, Dash 8, and more.
Regional Airplane Maintenance at Your Fingertips
Our Bangor, Maine, facility is located at Bangor International Airport, one of the eastern most airports in the USA. When it's time for heavy aircraft repair or overhaul, we are equipped and ready to take the best care of your regional aircraft at our Bangor facility. Our dedicated airplane maintenance hangar features an overhead crane to support engine changes and tail removals. And with a team of experienced aircraft maintenance technicians, you can be sure your aircraft will be airworthy in no time.
Our Aircraft Maintenance Certificates
C&L is an approved EASA and FAA repair station (#145.6152 / #J2SR196J) so our technicians are experienced in taking aircraft from FAA registration to EASA registration, including installation of ADSB. We are also an authorized dealer/installation center for several products, including Universal Avionics, Blue Sky Network, Gogo and Michelin Tires.
Explore Our Regional Airplane Maintenance Services
Perhaps your company has grown and it's time to update your branding and aircraft styling. Or your propellor is finally in need of replacement. Maybe you're looking to take your regional fleet to the next level by adding avionics upgrades and other enhancements. From routine airplane maintenance to emergency repairs, full overhauls, or updated styling, we've got your back when it comes to regional aircraft maintenance. See below for our range of aircraft maintenance capabilities.
Exterior Aircraft Maintenance
Heavy Aircraft Maintenance
Propeller Maintenance (including the five-year regrease on the Saab 340 Dowty propeller)
Avionics Upgrades
Interior Aircraft Refurbishment
Galley Updates
Lavatory Replacements
Cockpit Refurbishment
Side Panel Installation
Overhead Bin Replacement
Carpet and Seat Reupholstery
LED lighting upgrades
You learn even more about our regional aircraft interior services, our interior refurbishment facility, and see examples of our past work on our dedicated aircraft interior refurbishment page.
Partner with C&L for Your Ongoing Regional Aircraft Maintenance
We want to get to know you and your fleet so that when it's time for airplane maintenance, we're prepared to provide the best services for your specific needs. Get in touch with us via the contact form below or reach out directly to our regional aircraft maintenance team to start your new partnership for everything aircraft repair.
Contact C&L Aviation Group
We are happy to answer your questions. Contact us using the form below, and someone will get back to you as soon as possible.