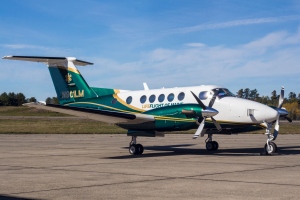 (Bangor, Maine, USA) C&L Aviation has completed a Spectrum Medevac module installation and flight deck upgrades on LifeFlight of Maine's recently acquired Beechcraft Kingair B200. These performance upgrades ensure the safest operations in poor weather conditions, along with the ability to enter airports that previously were inaccessible.
"Using our technology and expertise to make LifeFlight of Maine's important work easier and safer was incredibly rewarding," said C&L Director of Maintenance Phil Miholovich. "We look forward to a close relationship with LifeFlight of Maine in the future."
C&L's on-site interior shop replaced the Kingair B200's seat coverings and refurbished the interior—floor covering, window surrounds, sidewalls, cargo areas—with EMS-compatible material.
The aircraft's exterior was stripped and repainted with a custom livery in C&L's state-of-the-art paint facility, the largest of its kind in the northeast.
C&L collaborated with Pro Star Aviation in New Hampshire for installation of avionics upgrades.
This week, LifeFlight of Maine will celebrate the grand opening of its new hangar at Bangor International Airport with a ceremony including remarks from C&L CEO Chris Kilgour.
Links to Pictures:
LifeFlight of Maine Interior Gallery