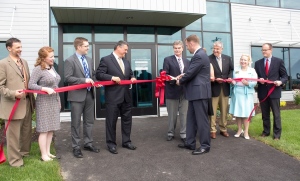 C&L Aerospace, a global, $30-million aircraft parts and maintenance company located in Bangor, Maine, celebrated the Grand Opening of its $5-million expansion at Bangor International Airport on Thursday. A ribbon-cutting ceremony, courtesy of the Bangor Region Chamber of Commerce, and remarks from local and state dignitaries were followed by a reception and tours of the facility.
C&L's move from a 40,000 square-foot hangar on the south side of Bangor International Airport to the new 120,000 square-foot complex on the north side triples the company's space, allowing it to branch into new markets such as aircraft painting and interior refurbishments for executive jets.
"Our hangar can now accommodate up to 5 lines of heavy aircraft maintenance and modifications for regional and corporate aircraft," said Director of Maintenance Phil Miholovich.
Later this summer, C&L will open a 17,000 square-foot painting hangar that was partially funded by a Federal Economic Development Administration grant totaling $576,000 and matched by the City of Bangor.
"This expansion gives us the ability to service all facets of an aircraft at one location," said CEO Chris Kilgour.
C&L's steady growth since 2010 has meant more jobs for Mainers. The company had just 20 employees in 2010 when Kilgour, a native of New Zealand, bought Telford Aviation and formally moved C&L's headquarters, founded in 1994, from Australia to Maine. C&L now employs 120 workers—with skills such as welding, avionics, engine repair, and painting—and that number is expected to grow.
"We chose Bangor as the place to grow our company because of the support we received from the city," said Kilgour in his remarks at the ceremony. "We promised to create 50 jobs in return. We have far exceeded that. We have now created more than 100 jobs, with many more to come."
Kilgour then referred to a congratulatory video from U.S. Senator Angus King , saying, "I echo Senator King's words—this has been a great example of a public and private partnership for the greater good of all."
Senator Susan Collins also sent a video.
More than 150 people were in attendance for the ribbon-cutting ceremony. Remarks were given by Bangor City Council Chair Ben Sprague; Commissioner George Gervais, Maine Department of Economic and Community Development; gubernatorial candidate Eliot Cutler; and Bangor Region Chamber of Commerce President John Porter. Carol Woodcock, Sen. Elizabeth Schneider, and Chris Winstead shared remarks from Sen. Collins, Sen. King and Rep. Michaud, respectively.
More pictures of the ceremony are available on C&L's Facebook page.