Owning a private jet can be expensive and time-consuming. With the help and guidance of an experienced MRO, however, operators can find ways to lessen the cost that can accompany aircraft ownership.
At C&L, we navigate this process for operators every day, and our client success stories speak volumes about how finding the right support team can mean stress-free aircraft ownership.
For instance, a recent client currently enjoys her professionally staffed and maintained airplane whenever she likes, and when she's not using it, the aircraft "moonlights" as a charter plane, earning revenue that helps offset the expenses of ownership.
We made this work by first finding a preowned Beechjet 400A at a great price. Then, at our one-stop facility in Bangor, Maine, where we have everything we need onsite to service all aircraft needs, we handled the aircraft's maintenance needs, refurbished the interior and gave it a fresh paint job, making it more attractive to potential buyers and charter clients. The aircraft was then purchased through our sales company SevenJet Private Travel by a client who utilizes our charter company, SevenJet to manage the aircraft's charter operations, and our technicians at C&L handle all the maintenance.
You can watch the transformation of this aircraft below.
In the end, our client saves time and money because her aircraft is serviced and managed in one location, and when the aircraft is being used for charter services, it earns money that helps pay the bills.
How a Charter Agreement Can Offset the Cost of Ownership
The FAA allows aircraft owners to offer their planes for charter service with a licensed company that complies with a special set of rules – specifically, Part 135 of the FAA Regulations that govern charter organizations.
We handle all of the complex requirements to make an aircraft eligible to fly charter through our sister company SevenJet, whose Part 135 certificate includes special instruction for aircraft maintenance, flight operations,  staffing, and training.
"SevenJet manages everything — scheduling, operations, maintenance, and administrative and reporting needs — all of which cost less than a full-time employee," said Tom Chapman, Senior VP of Corporate Aircraft for C & L Aviation.  "And with both companies—C&L and SevenJet—under one roof, you have essentially one entity managing everything you need for a great aircraft ownership experience."
Also, professional management provides discounts on aircraft insurance, flight crew training and aircraft parts that cannot easily be achieved by the owner of a single aircraft. The savings resulting from these relationships and economies of scale exceed the aircraft management fees.
Our Beechjet operator benefits from SevenJet keeping her aircraft in charter service when she herself is not using it personally. Rather than being stored, the Beechjet makes money that helps offset our client's expenses.
Why A New Interior was a Great Investment for this Beechjet 400A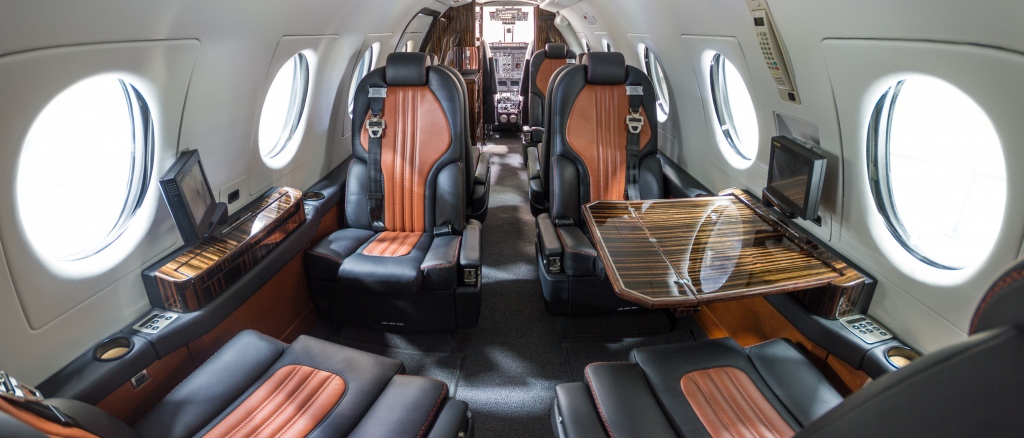 A refurbished interior is key to the success of a charter plane. Many times, passenger satisfaction is more closely related to the newness of the aircraft's interior than it is to the age of the aircraft itself. Passengers are reassured by a beautiful, well-maintained interior because it's a subconscious indicator of a stable, substantial aircraft and of professional staff and professional maintenance.
The easiest and quickest way to update an aircraft's interior is to refurbish the soft goods: seat leather, fabric, and carpet. These items have the most direct impact on passengers and their perceptions of the aircraft. More extensive refurbishments might include new food-service equipment, new cabin management systems, and new wood, headliners, and sidewalls.
When these upgrades are done well, a pre-owned aircraft will feel fresher and newer, and its demand in the charter service will be increased.
Our client chose to completely refurbish the interior of the pre-owned Beechjet that we helped her find. The results are breathtaking, and help to keep this particular aircraft a popular choice in the charter market.
The Bottom Line
Owning a business jet offers an unmatched level of freedom as operators bypass the usual delays and hassles of commercial flying. The financial investment of private aviation can be substantial, of course, but those costs can be offset by a charter agreement with a trusted company—and especially one that can help with every step of the process (from purchasing to refurbishment to charter management).
At C&L, we offer customers guidance and support from beginning to end, and we do it all from a facility that was designed to more efficiently service aircraft. We are a full-service, one-stop solution, and our client success stories are a testament to why our system works.
About C&L Aviation
C&L is a global aviation services and aftermarket-support provider for corporate and regional aircraft specializing in interior and exterior refurbishment, avionics upgrades, heavy maintenance, aircraft teardown services, parts support, and aircraft and engine sales and leasing.  An FAA/EASA Part 145 Certified Repair Station, C&L strives to make aircraft ownership more economical by providing all services in one location: a state-of-the-art 140,000 square-foot facility at Bangor International Airport in Maine, but also maintains sales offices and warehouses worldwide.
C&L also offers charter services through the Part 135 charter company, SevenJet.