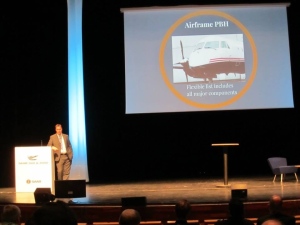 C&L Aviation Group CEO Chris Kilgour was a featured presenter at the 2014 Saab 340 & 2000 Global Operators Conference held in Linkoping, Sweden, May 19-23. C&L was a Platinum Sponsor for the conference.
(See C&L's Saab 340 support capabilities here)
Kilgour's presentation began with the premier of C&L's new video, This is C&L Aerospace, highlighting the company's recent $5-million expansion at Bangor International Airport.
The presentation also showcased C&L's seven divisions of services (Maintenance, Parts Support, Engine Repair, Technical Support, Aircraft Remarketing, Interior Shop and Aircraft Painting), which have made C&L a world leader in Saab 340 parts, maintenance and service.
The bi-yearly Saab 340 Conference, attended by operators from all over the world, is a place to network with other operators, meet customers and exchange ideas related to ensuring the aircraft's safety and cost-effectiveness.
This year's conference included a guided tour of the Saab factory, an airshow including Saab's Gripen, and other displays of Saab aircraft.
Photos from the event are available on C&L's Facebook page.