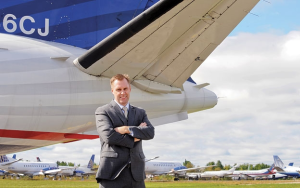 Chris Kilgour, CEO of Maine-based C&L Aerospace made business publication Maine Biz's 2013 Next List naming ten people shaping the future of Maine's economy.
"This is quite an unexpected honor," said Kilgour.  "Honestly, flattering.  But I really have to credit the entire team at C&L here in Maine and in Europe and Australia."
C&L Aviation brings in an estimated $30 million in annual revenue, maintaining and repairing airplanes and supplying parts.  C&L employs 120 workers in Maine and has offices and warehouses on three continents.
Maine Biz annual "Next List" spotlights "companies and their leaders who are doing remarkable things."
Kilgour joins scientists, researchers, pharmacists, entrepreneurs and artistic organizers on the Maine Biz 2013 "Next List."
An industry leader in regional carrier repair, maintenance, parts support, and Leasing services, C&L recently announced its plans for a $5 million expansion, tripling its footprint at it's Maine-based headquarters in Bangor.
See the video here: https://vimeo.com/76087644