Retreading aircraft tires is not a new concept. Retreaded tires are used by commercial and general aviation operators, increasing tire life cycles and saving the operators money in the long run. The regional sector, however, has yet to tap into the retreading industry, partly due to the lack of available material on the subject.
With this article, we demonstrate how retreading aircraft tires may be a viable option for regional operators, explaining its benefits and possible challenges as well as providing an overview of the retreading process and when tires are no longer safe for retreading.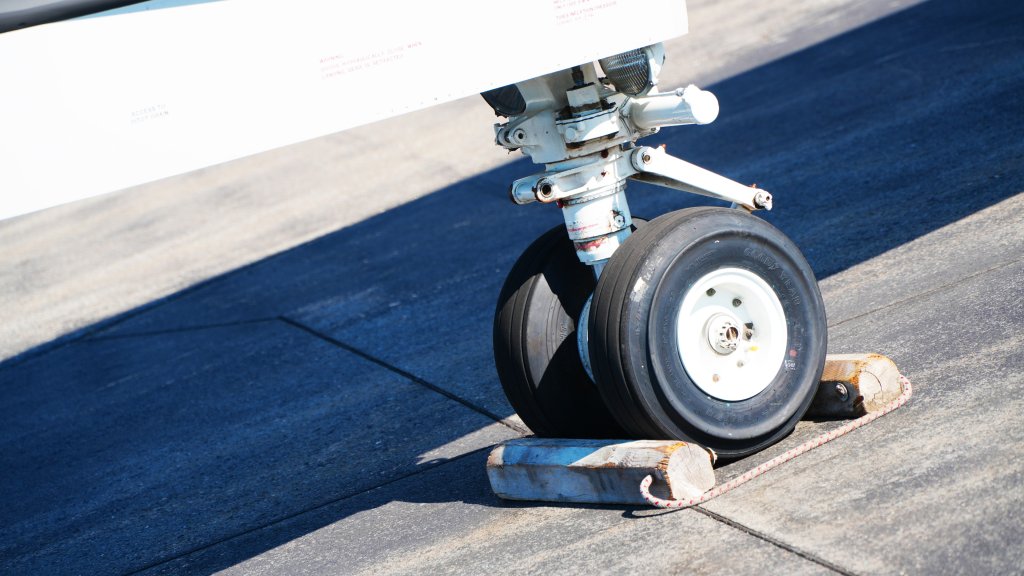 Why Retread Regional Aircraft Tires?
Monetary Savings
The cost of an ATR main wheel retreaded tire is approximately $1,200 whereas buying a new, non-retreaded tire is approximately $2,000. Tires may be retreaded several times (see below), decreasing the cost and frequency of acquiring new tires, and increasing monetary savings.
Maximized Life of Aircraft Tire
According to Dunlop Aircraft Tyres, aircraft tires can be retreaded 7 or more times. The exact number of times that your aircraft tires can be retreaded will be dependent on the limit set by the original manufacturer.
Environmentally Friendly
Retreading tires are more eco-friendly. Not only is less material used for retreading tires than for making completely new tires, but 75-80% fewer tires are scrapped and put in landfills once the tires are no longer serviceable.
Safety
Retreaded tires are as safe and reliable as new tires. When aircraft tires are sent back to the original manufacturer to be retreaded, they are inspected carefully. Uncompromised tires are retreaded using the same process as when new tires are made.
When to Retread Regional Aircraft Tires?
Aircraft tires need to be removed and replaced or retreaded if they display wear.
Aircraft tires that have worn patches or have been damaged in some way need to be removed. Provided the damage is not too severe, the tires can be retreaded (see below).
Regional aircraft tires need to be regularly replaced after a set number of landings, generally between 700 and 800 landings.
How Do You Know If Regional Aircraft Tires Are Compromised?
Aircraft tires that have been compromised – e.g., worn through the top ply or have a damaged core – cannot be retreaded and must be scrapped. To ensure that your tires can be retreaded, tires should be inspected upon removal from the aircraft. If the tires demonstrate any of the following damage, they may not be suitable for a retread.
Worn through the top carcass ply (resulting from flat spots or skid burns)
Damage to the beads or bead area
Exposed body cords
Protruding bead wire
Kinked bead wire
Separation of plies
Internal damage
Punctures to the inner liner
Broken cords
Damage from excessive brake heat (resulting from aircraft rejected takeoff)
Heavily oil-soaked tires
Significant loss of tire pressure
What is the Process for Retreading Regional Aircraft Tires?
Used aircraft tires are removed and sent to the original manufacturer. The original manufacturer generally retreads aircraft tires while they are producing a batch of the same type of aircraft tires. This ensures that retreaded tires are manufactured using the same processes and are made to the standards as new tires.
Aircraft tires are thoroughly inspected before being retreaded to ensure that the tires do not demonstrate any of the aforementioned damage.
Once the aircraft tires have been approved for a retread, the remaining tread is removed and new tread rubber is wrapped around the casing, then molded and vulcanized to the correct shape and tread pattern for that specific type of tire.
Retreaded aircraft tires must pass inspection before being released back into service. Some manufacturers use laser shearography to test the tire and ensure it complies with the FAA or equivalent.
How Long Does It Take to Retread Regional Aircraft Tires?
The amount of time it will take for your aircraft tire to be retreaded and returned to you will vary depending on a couple of factors.
Most aircraft tire manufacturers, such as Dunlop, Michelin, and Goodyear, are located in Europe. Depending on where your operation is based, you may have to ship the used tires internationally. Shipping internationally both to and from the manufacturer will contribute to the overall length of time
Aircraft tire manufacturers retread tires when the same type of tire is being produced. It could be a few weeks or months before your tires are retreaded.
Retreading Regional Aircraft Tires Advice
Reputable Retread Facility
Generally, it is a good idea to send your aircraft tires back to the original manufacturer, who will reproduce the tire tread to the same standards as it was originally.
International Shipping
To save on shipping costs, you may want to ship multiple tires at once, either by sending multiple tires from your operation (if you have a large fleet) or by combining a shipment with other operators. With the latter option, you and other operators can split the shipping costs.
Aircraft Tire Documentation
Not all aircraft tires can be retreaded. Review the documentation for your aircraft tires to determine if they can be retreaded. If the tires can be retreaded, the manufacturer will set a limit on the number of times they can be retreaded.
Changing Regional Aircraft
Many regional operators change the kind of aircraft they fly throughout their operation. Different aircraft oftentimes require different tires. Retreading regional aircraft tires is beneficial for operators who stay with the same kind of aircraft – or can use the same kind of tires on multiple aircraft – over a long time.
Don't Wear Out the Tire
Some aircraft tires may be too worn to be retreaded because the tires were used to the end of their serviceable life on an aircraft. If you want your tires to be retreaded, you may need to take the tires out of operation a little sooner (e.g., before wearing through the top ply of the tire).
Is Your Operation a Good Fit for Retreading Regional Aircraft Tires?
Retreading regional aircraft tires is a long-term commitment. It may take time to see both the cost and time savings. Before committing to retreading aircraft tires, consider whether your operation will benefit from the investment. Simulate costs and time to determine if retreading aircraft tires is right for your operation.
For more information please fill out the form below.