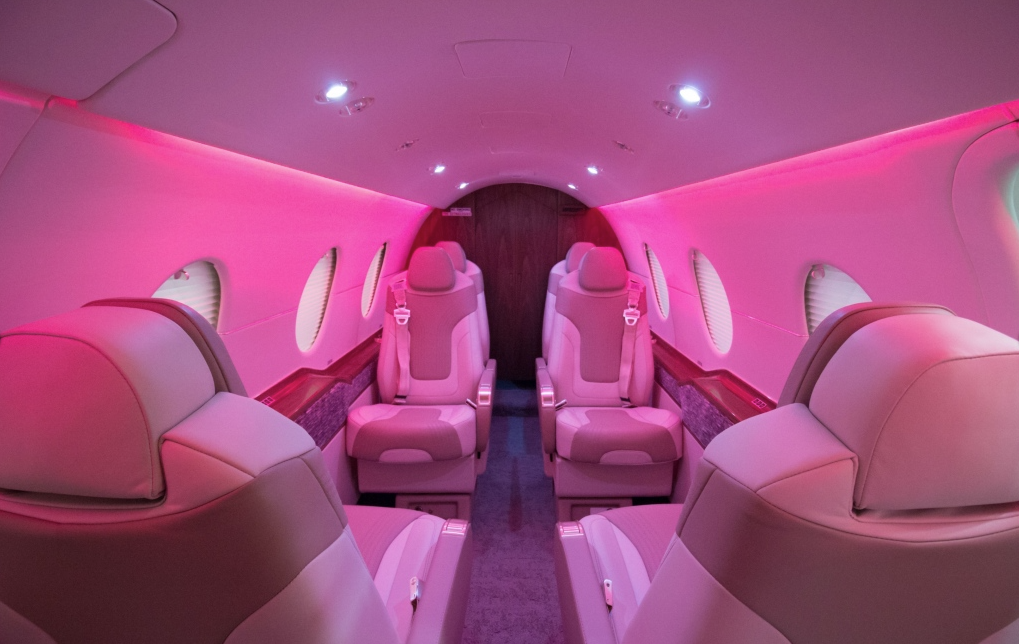 From needing to replace a burned-out light to wanting the trendiest mood lighting system, there are several reasons why you should upgrade your aircraft cabin lighting. If your private or small business jet is still featuring incandescent or fluorescent bulbs, it may be time to join the 21st century and upgrade to cost- and energy-efficient LED lights. If you have first-generation LED lights, it may be time for an update as well. LED (Light Emitting Diodes) technology keeps advancing with new capabilities.
When passengers board your aircraft, you want to make a good first impression. Good cabin lighting is one way you'll achieve your client's confidence.
LED lighting is more efficient, costs less, and requires fewer replacements than earlier technologies. It also comes in a variety of shades and colors that can be used to create a relaxing and aesthetically pleasing atmosphere.
What's wrong with the old aircraft cabin lights?
LED lighting outperforms older wash lighting systems that were built on cold cathode/fluorescent lighting technology. LEDs provide consistent wash lighting, even as they age. Fluorescent bulbs, however, do not age at the same rate, causing inconsistent lighting intensity or dim areas.
While incandescent lighting does not suffer from the same inconsistency in lighting, the heat generated from these bulbs (often used for reading lamps) can disfigure diffusers through melting or warping. It can also discolor or burn interior fabric. Fluorescent lights also suffer from heat loss, which causes premature failure of bulbs and power supplies, and damage to wiring and interior fabric or diffusers. LEDs, however, generate less heat, resulting in less damage to wiring, fabric, and diffusers.
First-generation LEDs were installed in aircraft cabins over 20 years ago. For aircraft with older LED lighting systems, it may be time for an upgrade. New LED system technologies are more advanced and have more lighting options available.
What are the benefits of LED aircraft cabin lighting?
Longevity, Efficiency, and Safety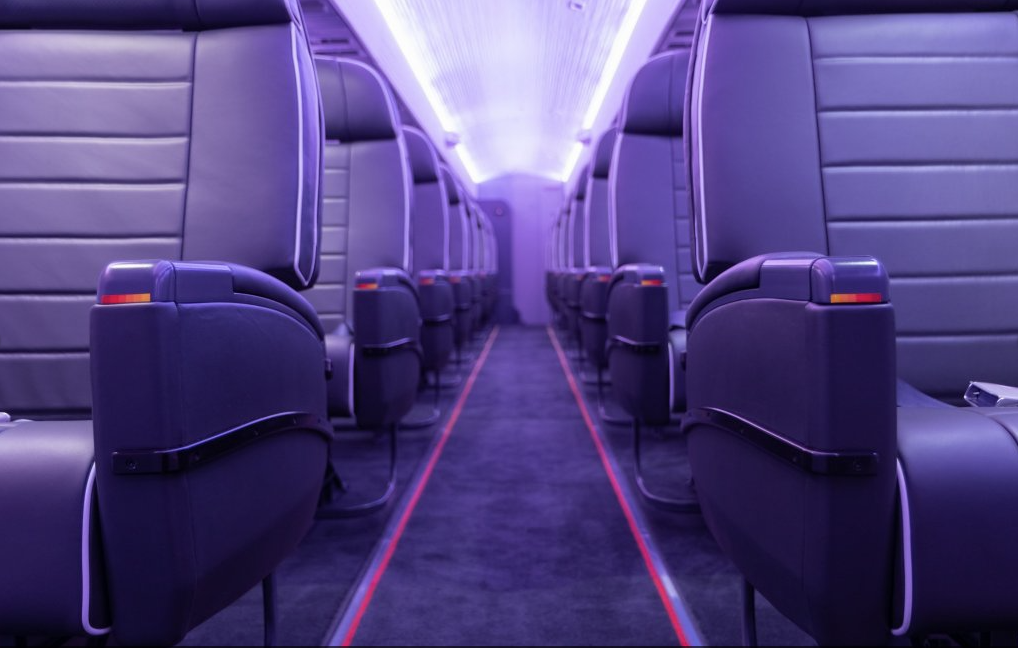 LED lights outlast incandescent lights. LED lights can last for 50,000 hours while incandescent lights only have a useful life of approximately 1,000 hours. Fluorescent lights last longer than incandescent, but their useful life is shorter than LEDs. They tend to age poorly, resulting in inconsistent lighting throughout the cabin.
Having a long life means that LED lights require less costly replacement and fewer hours spent on the ground for maintenance. They also contribute less to the overall weight of the aircraft (approximately 40% lighter than incandescent bulbs), increasing fuel economy.
LEDs use 75% less energy than incandescent lighting, according to the Department of Energy. Aircraft with LED lighting save energy that can be delegated to other electronic systems on the aircraft, such as USB chargers and IFE systems. 
Lastly, LED lights generate less heat than other bulbs, and this heat is contained within the heat sync. Less heat from cabin lights also means savings when it comes to cooling the interior air.
What are some LED aircraft lighting options?
Mood Lighting
Mood lighting is a common trend in LED lighting that can be used to create a relaxing atmosphere. Depending on the system installed, owners may choose a specific color(s) as part of their aesthetic or allow the colors to change throughout the flight. With some systems, passengers have control of changing the color from an app.
Sidewall and Ceiling
To provide illumination to the entire cabin, lights are commonly located along the walls and ceiling. Since LEDs can fit in more unconventional areas of the cabin than traditional bulbs, lighting can be added almost anywhere. For instance, flexible LED light strips can be used to outline the edges of windows, cabinets, and even seats.
Floor Path Lighting
Photoluminescent strips have recently been put into use on cabin floors, outlining the bases of seats, and can be used to help passengers navigate the cabin in the event of cabin light failure. Photoluminescent strips are lightweight and do not require electrical power, resulting in less overall weight being added to the aircraft.
Reading Lights
No lighting system would be complete without adequate lighting to meet passengers' individual needs. Conveniently located reading lights or spotlights allow passengers to control LED lighting for personal use.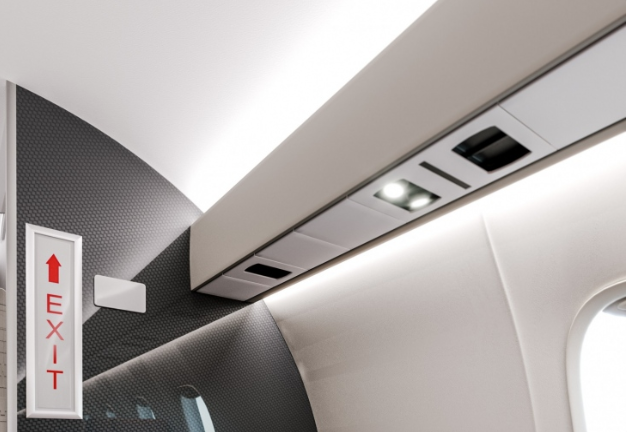 Lighted Signs and Emergency Lighting
It is easy to get caught up in the relaxing, changing colors of mood lighting, so don't forget to ensure that required lighted signs (regular or emergency signs) are up-to-date and functioning properly. Also, consider backup or emergency lighting systems in case of emergency (such as floor path lighting to direct passengers to exits; see above).   
Light Up the Sky
New LED light systems are more energy-efficient, less costly, and safer than incandescent and fluorescent lighting and are now more advanced than older LED systems. Having up-to-date lighting ensures that the entire cabin is illuminated and sends a message to passengers that you believe in modern technology on your aircraft, which will boost client confidence.
For more information please fill out the form below.