You already know that passengers expect internet and entertainment while flying. You may be one of those people, looking for the latest internet offerings for your private jet. Regardless if you own a small business jet or operate a charter or semi-private service, you may want expansive connectivity options onboard.
Inclusive and forward-thinking, Gogo AVANCE L5 offers a wide range of connectivity capabilities and is primed for the upcoming 5G network, which will launch during the fourth quarter of this year. This article discusses the benefits of AVANCE L5 and what you need to know to upgrade to 5G.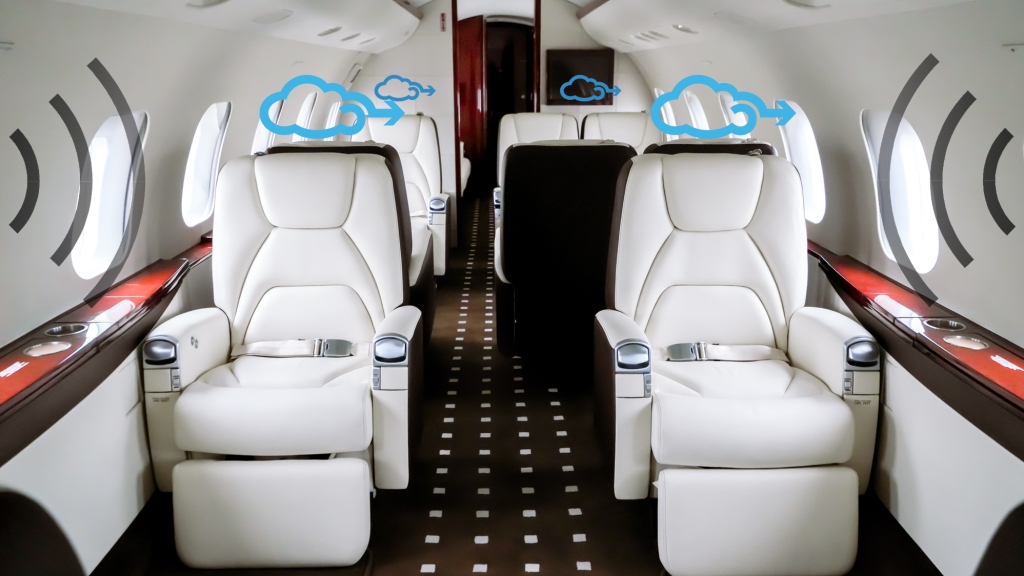 Who is Gogo?
The world's largest broadband connectivity services provider, Gogo offers a variety of connectivity, entertainment, and talk and text options for business jets and regional aircraft. Most recently, they have partnered with First RF Corporation, Cisco, and Airspan to provide nationwide 5G coverage. They are also working with OneWeb and Hughes Network Systems to provide global coverage in 2024.
What is Gogo AVANCE L5?
Gogo AVANCE offers seamless coverage using strategically located air-to-ground (ATG) stations. While the AVANCE L3 only performs 1.5 times faster than ATG broadband alone, the AVANCE L5 is 3 times faster and currently provides 4G technology. Aircraft with the AVANCE L5 will be able to easily and quickly upgrade to the 5G network.
Why Upgrade to Gogo AVANCE?
In addition to having 5G capabilities in the future, the Gogo AVANCE L5 has numerous benefits available now.
Cabin and Cockpit Connectivity
In the cabin, fast broadband coverage and the current 4G network can support up to 40 devices. This allows passengers to browse the internet and email, stream entertainment content, and operate control tools simultaneously.
In the cockpit, AVANCE offers high-speed internet and increases the accuracy of flight applications.
Available Applications
By combining all applications and services through one system, AVANCE minimizes the need for third-party systems. The available AVANCE applications are:
Moving map (display air show software)
Entertainment (movies, data content)
Network management
Talk and text
Cloud-based service and support (remote technical support)
Nationwide Coverage
Gogo AVANCE L5 currently benefits domestic flights, supporting continuous coverage throughout the entire Continental United States.
Starting in 2024, Gogo will also be offering 5G coverage in parts of Canada.
Easy Integration
Gogo AVANCE L5 integrates with most existing cabin management systems (CMS), particularly newer systems with digital software, such as the Honeywell Ovation and Collins Venue.
What to Know about Upgrading the Gogo 5G?
Upgrading to Gogo 5G starts with the AVANCE L5, then adding the Gogo X3 (5G LRU), and two MB13 broadband antennas (unless previously installed).
Note that all components do not have to be installed at the same time. AVANCE L5 will function alone but cannot be 5G compliant without the Gogo X3 unit. Similarly, the Gogo's multi-band (MB13) antenna is compatible with AVANCE L5 and does not require the Gogo X3 unit to perform. This may help to spread out costs for equipment and installation over time. That said, it is recommended that the aircraft be provisioned with the MB13 antennas and Gogo X3 installation rack and wiring when installing the AVANCE L5 system.
You should also provide adequate space for components when provisioning for the upcoming 5G system. The AVANCE L5 and the Gogo X3 units should be mounted as close as possible to each other, keeping the connection cable loss to a minimum.
Types of Antennas
Ten antennas are installed for the AVANCE L3 and L5 systems. These antennas are the following:
Three (3) 2.4 GHz Cabin Antennas
Three (3) 5.0 GHz Cabin Antennas
Two (2) Terrestrial Modem Cabin Antennas
Two (2) MB13 5G or Omni Directional Air-to-Ground L5/L3, External Fuselage Mounted Antennas
How Much Will the Gogo 5G Network Upgrade Cost?
Gogo currently lists the manufacturer's suggested retail price for the 5G upgrade only as $110,244. For purchasing the AVANCE L5 and 5G upgrade together, the cost is $221,736.
These prices do not include the cost of installation. Contact an authorized Gogo dealer agency (such as C&L Aviation Group) for installation and certification costs.
What to Know About Gogo Installation Downtime?
The amount of downtime will vary depending on the size of the aircraft cabin. Significant portions of the cabin interior may have to be removed for installation of the AVANCE L3 or L5, depending on the location of the aircraft's internal antennas. The larger the cabin size, the longer it may take to remove and reinstall the interior. In most cases, you can minimize downtime by scheduling your Gogo installation in conjunction with a planned maintenance event or interior refurbishment. 
For more information please fill out the form below.