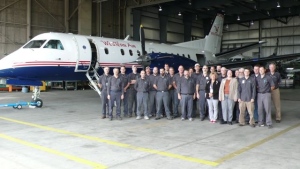 Australian-owned C&L Aerospace recently purchased regional aircraft MRO Telford Aviation Services, located at Bangor International Airport, Maine, in a deal brokered by CEO and owner Chris Kilgour.
The new entity, named C&L Aviation Services, was acquired by Kilgour at the end of May 2010.
The certified FAA and EASA repair station boasts a wide range of capabilities for Saab 340, Dash 7 & 8, ATR42, Emb120, CRJ100 & 200 aircraft, including C Checks, remote field visits, propeller changes and regreasing, corrosion prevention control and an extensive list of airframe and component repairs.
Formed in 1982, as a General Aviation charter operator, Telford Aviation Services diversified into regional aircraft maintenance in the early 1990s after acquiring the General Aviation Repair Station at Bangor International Airport.
The main contacts at C&L Aviation Services are Head of Maintenance, Phil Miholovich, Tel. +1-207-217-6055, Cell. +1-207-907-6001, E-mail. Phil.M@cla.aero, and Regional Sales Manager, Jack Kenney, Tel. +1-207-217-6069, Cell. +1-207-217-7560, E-mail. Jack.Kenney@cla.aero
C&L Aerospace, which serves both the commercial and military sectors, was founded in 1994 by CEO Chris Kilgour. Under his leadership, C&L Aerospace has experienced solid growth which includes the previous acquisition of two other aviation businesses, which were also successfully integrated.
Headquartered in Brisbane, Australia, the company operates an additional office in Ventura, California, and maintains a warehouse in London. The company is a distributing agent for Barry Controls engine mounts and isolators, for GKN windows and windshields and for Amfuel fuel cells.
C&L Aerospace is the industry leader in the supply of aftermarket Saab 340 and CT7 engine inventory