The ATR landing gear is one of the most durable aircraft parts. This doesn't mean that a landing gear is indestructible, however. It often requires regular line maintenance and scheduled overhauls to ensure continued airworthiness.
We know some things about ATR landing gear overhauls because of our experience with ATR support. This article describes when to perform ATR landing gear overhauls and other maintenance, how to prevent corrosion on the landing gear, and what to expect for aircraft downtimes and overhaul costs.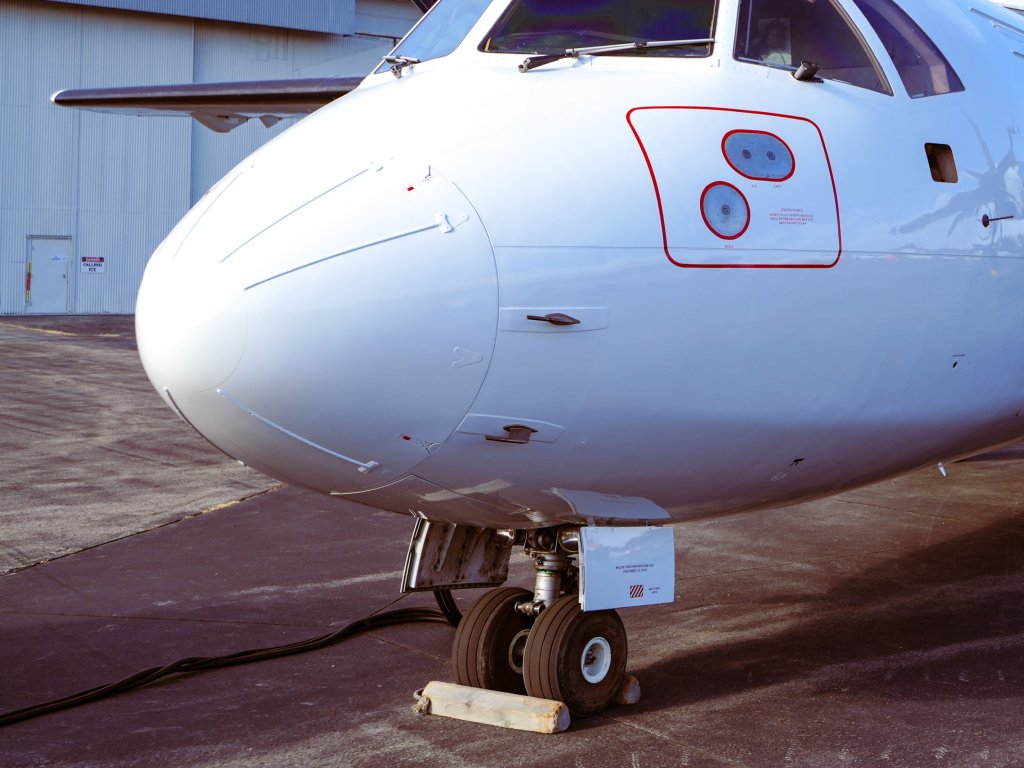 How Often Do ATR Landing Gear Require Overhaul?
ATR landing gear overhauls are scheduled every 8 or 9 years or 18,000 or 20,000 cycles (whichever comes first), depending on the landing gear part number. Always review your operation's maintenance tracking system to determine when your specific landing gear and subassemblies are due for an overhaul.
Landing gear maintenance is due based on the life or cycles of the subassemblies. Various landing gear subassemblies are life limited parts that need replacing once they have reached their allowable life.
Although rare, unplanned maintenance may occur. For example, if there is a damaged axle or corrosion on the landing gear, the landing gear will require immediate repair.
Preventative ATR Landing Gear Line Maintenance
Properly maintained landing gears minimize the risk of corrosion and keep overhaul costs down. The aircraft maintenance manual (AMM) outlines ways to protect the landing gear during line maintenance. Always refer to your aircraft's AMM for specific preventative practices.
Some preventative maintenance practices include:
Lubricating the landing gear to keep out water, de-icing fluid, and other liquids that may cause corrosion

Note: Use the substance indicated in the AMM to provide protection

Avoiding unnecessary impacts on struts to minimize the number of scratches, dings, or dents that may result from impact
Protecting landing gear from paint strippers

Ask your paint facility what precautions they take to protect landing gears from paint strippers that can cause corrosion

Replacing damaged components
How Long Does ATR Landing Gear Maintenance Take?
Under normal conditions, ATR landing gear overhauls take 45 days. Due to present global shortages of spare and critical parts, overhauls may extend to 90 or 120 days. These estimates only account for how long the landing gear will be in the shop and do not reflect the potentially long wait period to get your landing gear inducted into the shop.
Within recent years, almost 50% of second-tier, non-OEM overhaul facilities have temporarily halted overhaul services for ATR landing gears due to difficulties obtaining spare parts. This means original equipment manufacturers (OEMs) and operating non-OEM facilities are in higher demand and often have to schedule overhauls far in advance (e.g., two years).
How Much Does an ATR Landing Gear Overhaul Cost?
Depending on the amount of work required, ATR landing gear overhauls range in price between $400,000 to $600,000. How much you'll pay depends on the condition of the landing gear and how many life-limited parts require replacement. Correctly maintained ATR landing gears generally cost less to overhaul because they have less corrosion and need fewer replacement parts.
The ATR Landing Gear Market
Due to supply chain issues, ATR landing gear spares, piece parts, and whole assemblies are in relatively low supply on the market. Spare or piece parts can generally only be obtained through the OEM. Entire landing gear assemblies may be easier to locate on the market than individual pieces, but they may still be rare and expensive.
What If Your ATR Landing Gear Requires Unplanned Maintenance?
Landing gear may experience corrosion or damage, necessitating immediate repair or overhaul. ATR aircraft cannot continue to operate after finding issues.
Whether you need to repair, overhaul, or replace the landing gear depends on damage severity. Although obtaining piece parts may be tricky on the current market, landing gear installations may be conducted by aircraft technicians in-house.
ATR Landing Gear Advice
Plan in Advance
Most landing gear maintenance is planned, so you'll usually know in advance when a landing gear overhaul is due. You can start negotiating with overhaul facilities two years before the scheduled visit to determine when you can get your landing gear into their shop.
Use Loaner Landing Gear
Consider asking your preferred overhaul facility about a set of loaner landing gear. If you do not have time for your landing gear to be overhauled, you may be able to have a loaner set installed. Then, you can continue to operate while your landing gear is overhauled.
Exchange Landing Gear
In time-sensitive situations, you can also exchange your current landing gear. With an exchange, you trade the removed landing gear (known as a core). An exchange fee is charged for the convenience of getting an overhauled replacement unit ready for installation.
Schedule Landing Gear Overhaul During Routine Maintenance
Combine maintenance events to minimize aircraft downtime, if possible. For example, if you know your next scheduled landing gear overhaul is within months of your next heavy check, ask your maintenance provider about removing the landing gear and sending it out for overhaul while your aircraft is at their facility.
Related Reading:
"How to Upgrade Your ATR 72 Carbon Brakes?"
"Why aren't ATR Propeller Blades Available on the Market? (And How to Maximize the Life of Current ATR Turboprop Blades)"
For More Information, Please Fill Out the Form Below