Do you want to transform your ERJ 135, 140, or 145 into a luxury semi-private aircraft?
Semi-private aircraft are usually regional-sized jets with fewer seats, allowing for upgraded seats, more legroom, and personal space. ERJ 135, 140, and 145 aircraft with traditionally configured seating can be easily converted to resemble a first-class or private jet interior. However, semi-private conversions remain a niche market, with only a few MROs providing those services.
As one of those MROs, we at C&L Aviation Group often get asked about the available ERJ semi-private upgrade possibilities. While other MROs may offer different solutions, we created this article to help you understand the services and options for each of our ERJ interior refurbishment packages, estimated costs, and expected downtime.
ERJ 135, 140 & 145 Semi-Private Aircraft Packages
C&L Aviation Group has created the following four packages for operators interested in entering the semi-private travel market:
Regular Commercial Layout
30-Seat Layout
Space Jet
VIP Jet
Each package is fully customizable with add-on options to make your ERJ 135, 140, or 145 aircraft reflect your unique branding.
Want to learn more about each interior upgrade? Check out our article: What is an ERJ 135, 140 & 145 Semi-Private Jet Conversion?
1. Regular Commercial Layout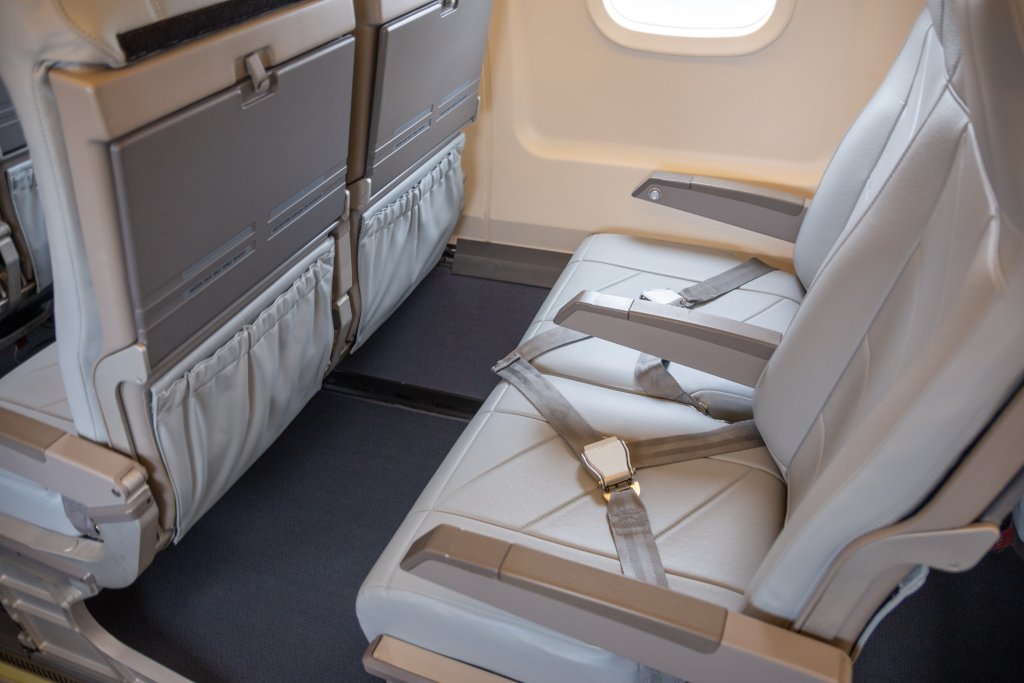 Our Regular Commercial Layout package provides ERJ 135, 140, and 145 aircraft with an updated interior while maintaining the original seating configuration. Although this is not a "semi-private" option, it serves as a good place to start in this article as a baseline option. This refurbishment-only option includes the following services:
Upholster aircraft cabin seats in new-style leather seat coverings with re-woven seat belts, including flight attendant seats
Replace pilot and co-pilot seat covers
Options for USB (Type A/Type C-PD) or 110-volt 60 hz outlet installation in sidewalls
Replace carpeting and flooring in the aircraft entrance, galley, and lavatory
Remove vinyl wall coating throughout the interior, perform any repairs, seal and paint cabin interior (includes burn certifications)
Recover dado panels and bulkheads
Replace all inner window plexiglass panels
This package is the most cost-effective with the shortest downtime.
Prices start at $275,000
Estimated turnaround time: 45 days
2. 30-Seat Layout
Level up from the Regular Commercial Layout package to a 30-Seat Layout. This package features fewer seats to provide passengers with more personal space. Further, it includes all of the upgrades from the Regular Commercial Layout package, plus the following:
30-seat configuration (FAA-approved STC only)
Replace foam in passenger aircraft seat backs as necessary
Replace passenger hydro-locks as necessary
Remove overhead bins and replace them with new ceiling and valence panels
Install a coat wardrobe
Hydro-dip tray tables, bulkheads, and lavatory sinks
Install new LED lighting
Install sound-dampening insulation
Prices start at $715,000
Estimated turnaround time: 50 days
3. Space Jet
The Space Jet package provides passengers with ample personal space by reducing the number of seats and replacing some seats along the aisle with tables. The aisle remains offset (same as in a 2:1 seat configuration).
20 seats in the ERJ 135
25 or 30 seats in the ERJ 140
30 seats in the ERJ 145
This package includes the services and upgrades available for the previous semi-private packages.
Prices start at $850,000
Estimated turnaround time: 120 days
4. VIP Jet
The VIP Jet package is the highest level of conversion. This package offers reduced seat density, providing the most personal space for passengers. The number of seats per aircraft type is as follows:
16 seats in the ERJ 135
18 seats in the ERJ 140
22 seats in the ERJ 145
The VIP Jet package includes all previously mentioned services and upgrades, plus
Flat floor modification STC for 1:1 seating and center aisle (more on this below)
Installation of new business class seating with adjustable lumbar, additional recline angles with unique leg support function, and ample leg room
Estimated prices for labor and materials vary based on the number of seats and type of aircraft.
Prices start at $1,750,000
Estimated turnaround time: 120 days
Additional Aircraft Options
In addition to the packaged options, C&L offers various add-on interior refurbishment services for the cabin, galley, and lavatory.
Cabin

Paint walls (various color choices)

Material coverings (e.g., leather, suede, etc.)

Hydro-dip sections (e.g., bulkheads, etc.)

Carpet color choices up to customized carpeting

Galley

Paint or hydro-dip finishes of cabinets

Attractive flooring options

Lavatory

Paint or hydro-dip finishes for the lavatory sink

Attractive flooring options
Looking to add a personal touch? Our team will work with you to customize your semi-private aircraft to match your vision and branding. Additional customized options include:
Sound systems (e.g., Bongiovi speakerless sound system)
LED lighting (options: warm white, cool white, or color)
Monuments (i.e., credenza, bar, additional galley, etc.)
Personalized logos on seatbelts and headrests
Personalized laser engravings or embossing on cabinetry, seats, and carpeting
Wi-Fi (e.g., Gogo, Starlink, etc.)
Exterior Paint
C&L's Semi-Private Supplemental Type Certificates
To complete the VIP Jet seating conversion, C&L holds three FAA and EASA approved supplemental type certificates (STCs) for ERJ 135, 140 & 145 semi-private conversions.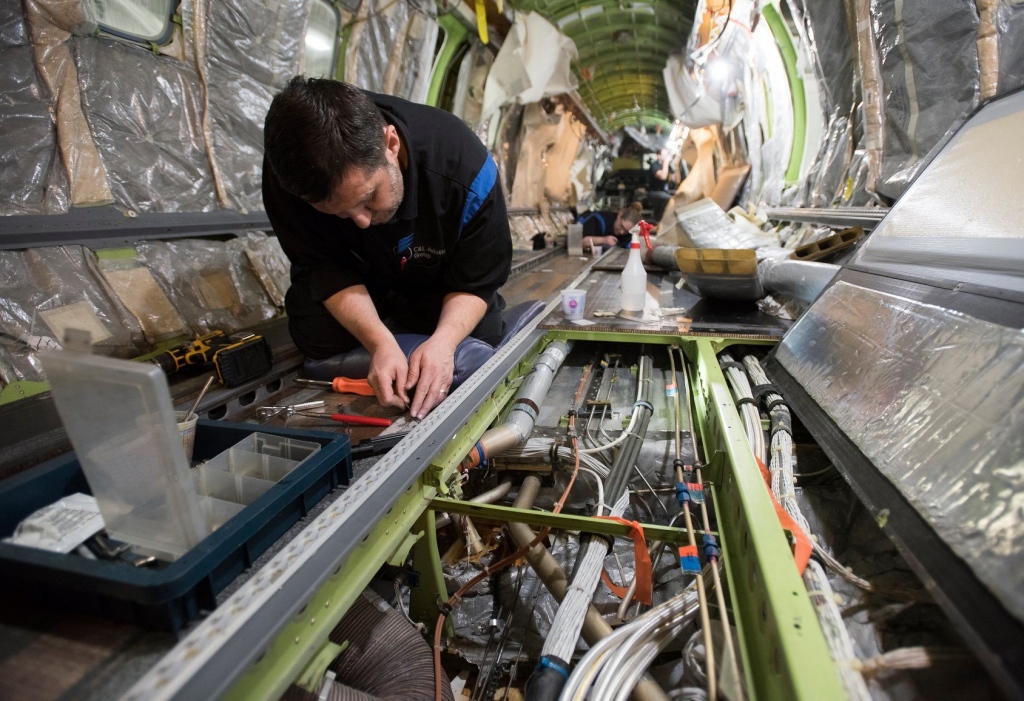 Flat Floor Modification STC
Under the STC (ST04527CH), the cabin floor is leveled and business-class seats are installed. Flat floor modifications change the seat configuration to include a center aisle. The existing aisle in the ERJ is off-center due to the 2:1 regional seating configuration.
Flat floor modifications allow for 1:1 business class seating with an industry-leading 23.5 inches wide seating area, adjustable lumbar, and recline functions with a spacious 40-48 inches seat pitch (depending on the aircraft type), compared to the typical commercial seating pitch of 31 inches. A larger seat pitch provides passengers ample legroom and space to recline comfortably.
Our STC also includes a wider, safer, and more comfortable 20-inch center aisle that exceeds federal regulation requirements.
Interior STC
A prerequisite for the Flat Floor Modification STC is the Interior STC (ST04177NY). This STC includes the removal of overhead bins, the installation of ceiling and valance panels, and the installation of continuous-run LED lights.
This STC also allows for the optional installation of USB dual port Type A and Type C-PD, 110-volt AC power, and a coat wardrobe.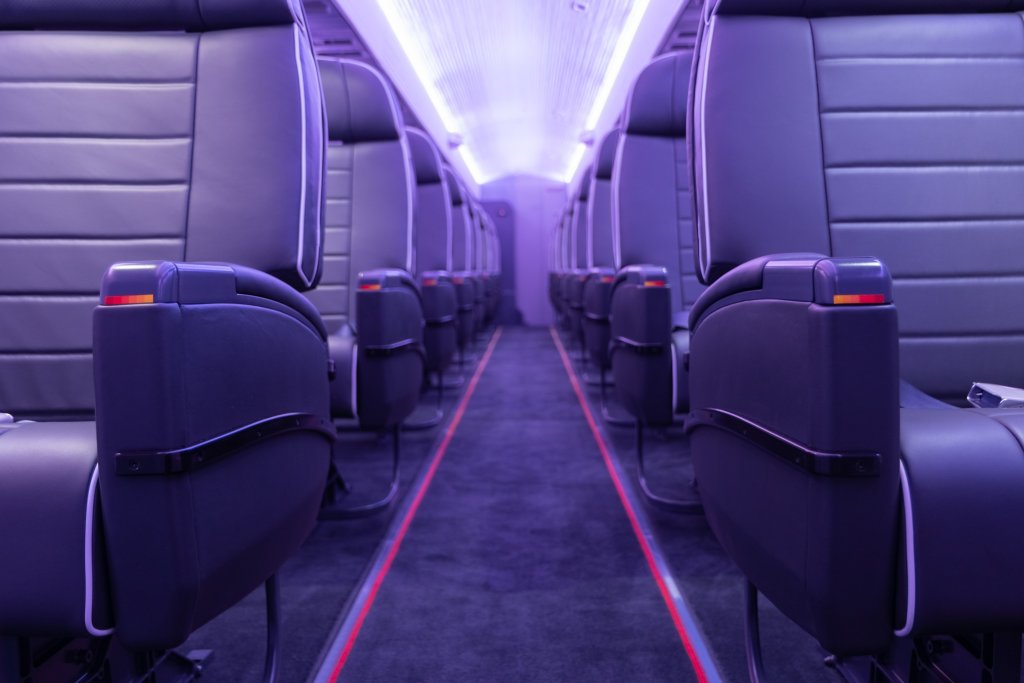 Floor Path Lighting STC
Also a prerequisite for the Flat Floor Modification STC, this STC replaces OEM floor path (a.k.a. Emergency) lighting with photoluminescence floor path lighting, thus improving reliability. (Photoluminescence floor path lighting does not require power to be visible during an emergency.)
About C&L Aviation Group
A trusted maintenance facility, C&L Aviation Group is also a Part 145 repair shop offering a one-stop solution for quick and precise aircraft customization and semi-private conversions of regional aircraft.
C&L's 200,000 sq. ft. facility includes two maintenance hangars, a 20,000 sq. ft. state-of-the-art aircraft paint hangar, an interior shop with hydrodipping capabilities, an avionics shop, a component shop, and a spare parts warehouse.