How we think about air travel has changed in recent years, particularly with the emergence of semi-private flying. Upgrading a regional aircraft's interior may be the fastest and most cost-effective way to enter the semi-private jet travel industry.
This article outlines what to know about the semi-private industry and what can happen during an ERJ 135, 140 & 145 semi-private conversion.
What is Semi-Private Jet Travel?
An increasingly popular flying trend, semi-private travel provides customers with a more private and luxurious experience than commercial flying. Semi-private aircraft are generally regional-size aircraft with fewer seats, allowing for upgraded seats, more legroom, and personal space. Semi-private travel typically departs from fixed base operators (FBOs) rather than traditional commercial airports, making them more convenient and less of a hassle than commercial flights.
Generally available for domestic flights, semi-private travel is also known as a "hop-on" jet service because it allows passengers to purchase individual seats on a pre-scheduled flight rather than chartering an entire private aircraft. Semi-private flights are considered flexible and affordable alternatives to private charter jets.
What is a Semi-Private Jet Conversion?
Traditionally configured regional aircraft can be converted to resemble a first-class or private jet interior if approved under the appropriate supplemental type certificate (STC). For instance, C&L holds an FAA and EASA approved STC for ERJ 135, 140 & 145 semi-private conversions.
What to Expect from an ERJ 135, 140 & 145 Semi-Private Jet Conversion?
Numerous semi-private conversion upgrade options exist for ERJ 135, 140 & 145. With each option, you may be able to tailor seat configurations, seat design, lighting, in-flight entertainment, and other aspects of the aircraft to create your distinct branding and meet your passengers' needs.
Seat Configuration
By changing the aircraft's seat configuration, you can reduce the number of seats and gain more space per passenger. You can change the ERJ 135's 37-seat configuration to 16 seats, the ERJ 140's 44-seat configuration to 18 seats, or the ERJ 145's 50-seat configuration to 22 seats.
Some seats can be replaced with tables. This configuration will not require a flat floor modification (see below).
Seat Design
Various options are available for seat redesign or upgrade:
Paint or powder coating of seat frames
Re-foaming of the seat back and bottom cushions
Re-upholstering seat cushions in fabric, leather, or ultra-leather
Upgrade economy seats to business or first-class seating
Color-matched seat belts
Plating of seat belt buckles
In-Seat Power
Options for electrical power include the installation of 110-volt outlets and USB ports in-seat (STC approval is required). USB-type C Power Delivery (PD) ports provide charging power to newer laptops and other electronic devices.
Cabinetry
Semi-private conversions provide space for upgraded or additional cabinets, tray tables, partitions, bulkheads, and pocket doors in paint, leather, or hydrographic finishes.
Carpeting and Flooring
Choose custom carpeting, laminated flooring, or tile flooring. If an existing aisle or structure for seat anchors needs to be changed to accommodate seat reconfigurations, you may need to modify the cabin floor.
What is a Flat Floor Modification?
For 16-, 18-, or 22-seat reconfigurations in the ERJ aircraft, the cabin floor may be modified to a "flat floor." Flat floor modifications change the seat configuration to include a center aisle. The existing aisle on most regional aircraft is off-center due to the 2:1 regional seating configuration. Flat floor modifications allow for 1:1 business class seating with an industry-leading 23.5" wide seating area, adjustable lumbar, and recline functions with a spacious 43" pitch (compared to the typical commercial seating pitch of 31").
Lighting
Upgrade to LED lighting and choose between warm white and multi-color options for the cabin, galley, and lavatory. Mood lighting offers dimming capabilities and continuous LED lighting in the passenger area to eliminate dark areas typically seen on commercial aircraft.
In-Flight Entertainment
Keep your passengers connected with inflight Wi-Fi systems (e.g., Gogo, Starlink, etc.). Upgrade your in-flight entertainment (IFE) to provide the capability for streaming content, a music library with an improved sound system (check out the Bongiovi speaker-less sound system!), and moving map displays.
Sound Dampening
Sound-dampening options are available. Examples of sound-dampening are 1) an extra layer of insulation and 2) a high-level sound-dampening system.
Upgraded Interior Panels
Various options for upgrading the ceiling and valence panels exist, including:
Design, manufacture, and installation
Paint
Leather and ultra-leather covering
Upgrades for sidewalls include the removal of polyvinyl fluoride coating (Tedlar®) and painting with color-matched paint or covering with leather or ultra-leather. Alternatively, you can have new sidewalls designed, manufactured, and installed.
Overhead bins may be refurbished or removed. A redesigned passenger service unit (PSU) may also be installed to accompany the new seat configuration.
Upgraded Galley and Lavatory
Upgrades to the galley and lavatory areas include wall coverings, custom cabinets, and lighting. Food and beverage accessories, refinished galley units, and storage units are also available for the galley. Lavatory refurbishment options include upgrading faucets, and plating and powder coating lavatory accessories.
Exterior Paint
Don't forget to upgrade the exterior of your aircraft! Create a unique paint scheme incorporating your brand and messaging in various glossy and matte finishes.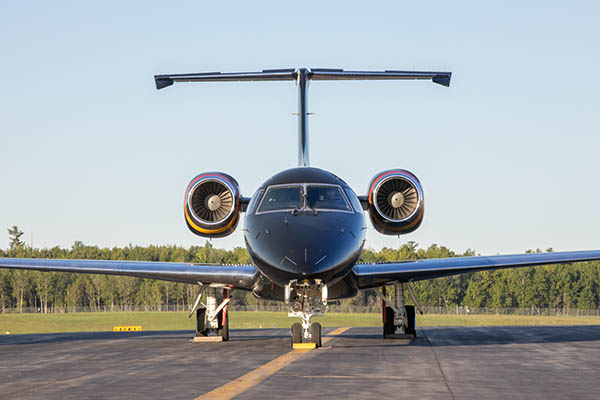 ERJ 135, 140 & 145 Semi-Private Conversion: A Customizable Experience
Some providers may offer semi-private conversion packages that combine various upgrades and fully customizable options. When customizing your semi-private aircraft, consider passenger needs, company branding, and what amenities you want to offer to make your semi-private operation stand out. Your provider should be able to work with you at every stage of the conversion process – whether sourcing your first ERJ aircraft, finalizing cabin design and installing all elements of the aircraft interior, or applying an exterior paint scheme.
For More Information, Please Fill Out the Form Below