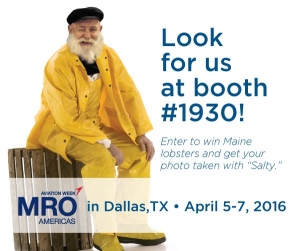 Visit Booth 1930 for fresh Maine lobster giveaways
C&L Aviation Group is bringing a bit of Maine to Dallas next week for Aviation Week's 21st annual MRO Americas, the largest MRO event in the world for the aviation industry. With more than 700 exhibitors and the industry's top thought leaders, the MRO Americas conference is consistently ranked as the premiere event for maintenance, repair and overhaul organizations. C&L is proud to be an exhibitor at the three-day event.
C&L will showcase at Booth 1930 its "one-stop-solution" approach to aircraft maintenance and support. Those who visit the booth will also have an opportunity to enter to win a fresh Maine lobster dinner, shipped from Maine directly to their home.
C&L offers parts support, heavy maintenance, interior refurbishment, aircraft painting, aircraft teardown, disassembly services and aircraft management all at one convenient location at Bangor International Airport in Bangor, Maine.
Built with operators' needs in mind, C&L's 120,000 square-foot facility and one-stop approach saves customers money, time and the hassle of ferrying aircraft to and from locations for different services. From a fully-stocked warehouse with an extensive spare parts inventory to a 20,000 square-foot aircraft paint facility, C&L has everything at its fingertips, and that means faster turnaround times for operators.
Come see all that C&L offers at Booth 1930, and post to social media a picture of yourself with C&L's Salty the Fisherman. You'll be entered to win a fresh Maine lobster dinner for four, which will be delivered to the winner's home address.