C&L offers LCD plug-and-play replacement solutions for legacy EFD-86 CRT Displays. High performance, plug-and-play replacement LCD-based display solutions solve CRT obsolescence problems and avoid expensive full cockpit retrofits. The LCD solution also provides improved reliability and reduces life-cycle costs.
LCD UPGRADE SOLUTION FOR EFD-86 CRT
Form, fit and function upgrade for EFD-86 CRT displays
Fully interchangeable with legacy displays
True plug-and-play with existing CRT units
Instant conversion

Install on overnights or at the gate
No changes to cockpit panels or wiring
No flight crew or maintenance retraining

Advanced THOMAS ADA 2.0™ ADAPTIVE DISPLAY ARCHITECTURE adds functionality and capacity to support emerging requirements
Eliminates threat of CRT obsolescence
Captures LCD technology benefits

Higher MTBF at lower cost of ownership over CRTs

Includes five-year warranty and world-class product support
TFD-8601 LCD upgrade (replaces Rockwell Collins P/N 622-6342-XXXX)
Available for the following aircraft:
EMB120
Saab 340
Challenger CL600
Falcon 10/50/20/100
Gulfstream//Astra 1125
Hawker 800
TDF-8601 LCD PRODUCT SPECIFICATIONS
| | |
| --- | --- |
| MODEL | TFD-8601 |
| PART NUMBER | 61T189-001 |
| CONTRAST | LCD LOW AMBIENT CONTRAST >250:1 HIGH AMBIENT CONTRAST 23:1 |
| VIEWING ENVELOPE | HORIZONTAL +60/-60 DEGREES VERTICAL +45/-10 DEGREES AT CONTRAST .15:1 |
| LUMINANCE | MAX WHITE SYMBOL: 88FL |
| RESOLUTION | 124X768 |
| SIZE (HxWxL) | 5 x 6 x 10.9 in. (127 x 152 x 277 MM) |
| POWER CONSUMPTION | 25 WATTS |
| WEIGHT | 4.62 LB (2.1KG) |
| MTBF | >20,000 HRS |
| CERTIFICATION | TSO-C113A |
TFD-8601 PRODUCT OVERVIEW
A new product designed as a plug and play LCD upgrade for the Rockwell Collins EFD 86

(Proline 2) 6×5 CRT display
Form, fit, function replacement
True plug and play installation
First in a family of drop in LCD upgrades being developed by Thomas Global
Made possible by development of a proprietary analogue to digital signal conversion technology

Removes threat of CRT obsolescence

CRT production discontinuance already announced by Collins Aerospace
High-performance AMLCD display
Coupled with proven, proprietary technology allowing CRT to LCD replacement already

Reduced cost of ownership vs. CRT units

Significantly higher MTBF, full new product warranty

Avoids expensive full cockpit retrofit

No pilot retraining, zero aircraft downtime (almost instant conversion)
Maximizes current cockpit investment

Reduction in weight, heat and power consumption
Pricing comparable to major repair of obsolete Collins CRT EFIS
5-year warranty
Growth path for additional capabilities to suit evolving technology or operator needs

e.g. SBAS approach, ADS B in, windshear annunciation
ARINC 429 input and expansion card slots

Drop-in installation

Zero aircraft downtime, no impact to flight operations

No impact to training requirements or changes to simulators
Certification to TSO C113a and aircraft STC, Saab SB
SAAB 340 LCD SOLUTION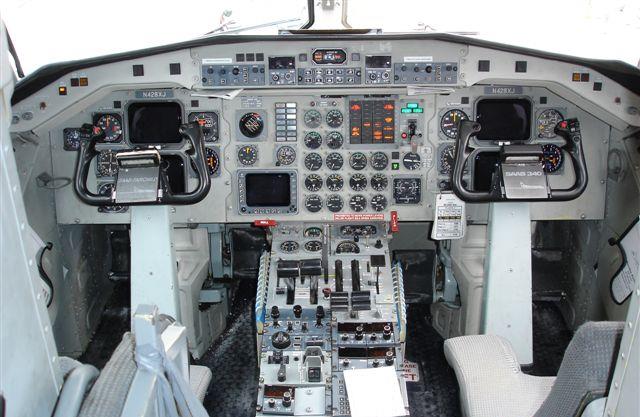 Replaces EFD-86 CRT displays (P/N 622 6342 xxx)
4 display units in each Saab 340 flight deck
Retains use of existing DPU, EFIS controllers and EFIS select panels
Growth path for additional functionality via Thomas Adaptive Display Architecture™ design
TFD-8601 already installed major Saab 340 operators fleet

Running since August 2015
Accumulated over 700,000 trouble-free flight hours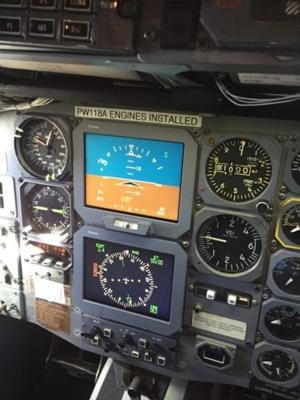 For more information contact our sales department
Contact C&L Aviation Group
We are happy to answer your questions. Contact us using the form below, and someone will get back to you as soon as possible.