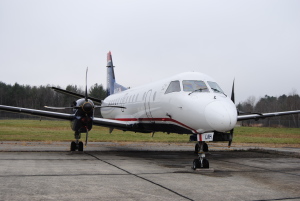 C&L Aerospace and Rockton, through a joint venture, have purchased 14 Saab 340Bs from Endeavor Airlines, a subsidiary of Delta Airlines. The aircraft will be completely refurbished at C&L's Bangor, Maine, facility adjacent to Bangor International Airport.
"This reinforces our position as the premiere re-marketing company in the world for Saab 340s," said C&L CEO Chris Kilgour. C&L has completed over 30 transactions of Saab 340 aircraft in the last two years.
Rockton, which in 2011 became the largest independent Saab lessor after purchasing a portfolio of aircraft on lease across Europe, has a longstanding history of investing in Saab340s, the world's best selling 30-seat turboprop.
"There are over 400 operational Saab aircraft flying in over 30 countries with 99% dispatch reliability at very attractive economics," said Robert Kuller, a Partner at Rockton, "so we are pleased to continue our commitment to the type."
Beginning this summer, C&L will be able to paint the refurbished Saabs on-site as well in a new, $5-million, 120,000 sq-ft facility.
"We offer a one-stop service center for regional aircraft owners around the world," Kilgour said. "Together with our vast in-house expertise, innovative 'Customer Center,' and an on-site warehouse, C&L saves customers costly aircraft downtime and ferry flights."
The aircraft are co-managed by C&L Aerospace and Rockton. C&L Aerospace will be marketing a number of the Saab 340s for sale or lease.