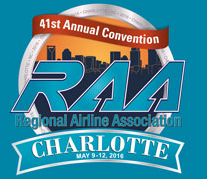 (Bangor, Maine, USA)  C&L Aviation Group is excited to participate in the Regional Airline Association (RAA) Annual Convention May 9-12 in Charlotte, North Carolina. As the exclusive industry trade show and annual meeting for North American regional airlines and suppliers, this event brings together more than 1500 influencers, decision-makers and services and support companies like C&L.
Calvin Tuitt, C&L's Senior VP of Business Development, looks forward to meeting with conference attendees and sharing how C&L can support directors of maintenance, aircraft owners and operators.
"As a long-time associate member, C&L Aviation Services is pleased to support the Regional Airline Association and its North American member airlines in Charlotte, North Carolina this year.  We are excited to talk about our one stop support services with existing and new regional airline customers as we offer our power-by-the-hour programs for parts and rotables, aircraft and component maintenance, complete cabin refurbishment and modifications as well as quality aircraft exterior painting in our state-of-the-art paint shop."
Look for C&L in the exhibition hall to learn about its priorities: safety, quality and customer satisfaction.
C&L is built on the idea that operators should not have to transport their aircraft to different locations for heavy maintenance, paint, interiors and avionics. C&L can take care of all of an aircraft's needs from its Bangor, Maine, headquarters adjacent to Bangor International Airport.
###
ABOUT C&L AVIATION GROUP: C&L Aviation is an industry leader in servicing, maintaining, and supporting operators in the corporate and regional aviation industry. In addition to aircraft and engine sales and leasing programs, C&L offers parts support, heavy maintenance, interior refurbishment, aircraft teardown, disassembly services, and aircraft management. C&L is headquartered in Bangor, Maine, with international offices in Australia and Europe. www.cla.aero.