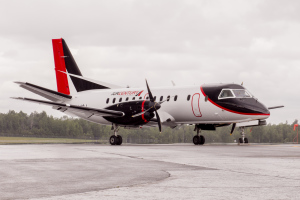 (Bangor, Maine, USA) C&L has delivered a completely refurbished Saab 340B to Air Century S.A. in Dominican Republic, where it will expand their charter operations throughout the Caribbean. The aircraft underwent heavy maintenance, interior refurbishment and new paint at C&L's facility in Bangor, Maine, and C&L will continue to provide support to Air Century for the life of the aircraft with spare parts and equipment.
"C&L, with its integrated solutions and long-term support, is the best choice for us," said Fabio Nina, Air Century's Commercial Director. "I can go to bed knowing that C&L has our back."
Air Century has already pre-sold the Saab services with great response from its customers.
"The Caribbean is a great place for the Saab and C&L," said Fred Dibble, C&L's SVP of Business Development. "The markets are the right size for the Saab year round, and the aircraft exceeds its contemporaries in handling the unique environmental factors in the islands."
The sale furthers C&L's commitment to develop new opportunities for operators to place as many Saab aircraft back into service as possible.