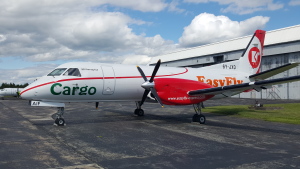 C&L is proud to support Easy Fly Express with the addition of its first Saab 340. The turboprop is the first of its kind in Bangladesh.
In preparation for Easy Fly's acquisition of the Saab 340, all of its heavy maintenance and a new paint job was completed at C&L's Bangor, Maine, headquarters. C&L will provide longterm logistics and parts support to Easy Fly for the Saab.
Easy Fly Express operates domestic and international flights—including both charter and scheduled cargo—from it's Dhaka base to Cox's Bazar, Jessore and Chittlagong.