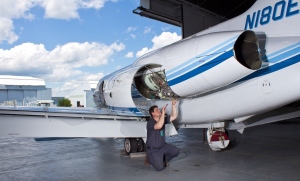 C&L can now service all Hawker 800 needs in-house at the Bangor facility.
After several years of offering component services for the aircraft, C&L can now complete heavy maintenance checks, exterior painting, interior refurbishment and modifications.
C&L recently completed a medevac STC for a Hawker 800A.
C&L's maintenance capability, interior shop, and its soon to be completed aircraft paint hangar, make it the ideal one-stop-shop for the Hawker 800.