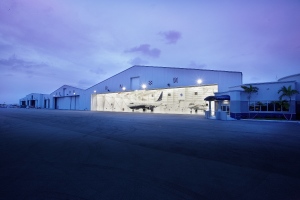 (Bangor, Maine, USA) C&L Aviation Group opened this month a new satellite office in Florida. Located within Fontainebleau Aviation, the office will operate out of Opa Locka Airport (OPF) in Miami. The new location brings C&L's total satellite offices to six.
C&L's operations at Opa Locka will focus on corporate aircraft sales and management and will allow the company to expand its aircraft charter business.
"Fontainebleau Aviation is a premier Executive Jet center that links Miami to destinations throughout the world," said C&L CEO Chris Kilgour. "The Florida office provides C&L with an important base for its charter, sales and management activities."
C&L Aviation specializes in MRO services for light, medium and heavy jets, with emphasis on paint and interior design and refurbishment, avionics upgrades and Wi-Fi installations at its new 120,000 square-foot facility in Bangor, Maine.
For more information about C&L Aviation Group and its services, please visit www.cla.aero and www.7jet.com
Photo courtesy of Opo Locka Airport and Fontainebleau Aviation.