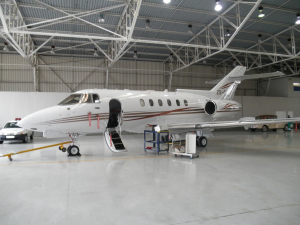 C&L Aerospace announced today that it has acquired its second Hawker 800 aircraft, furthering its commitment to Hawker CRO support. Over the past 12 months the company has invested heavily in the Hawker market and continues its steady progress toward becoming the preferred vendor to Hawker operators and MRO facilities.
"This aircraft will be dismantled to help build our inventory of Hawker material in support of our current customers and to aid in our expanding product offering" stated Chris Kilgour, owner and CEO of C&L Aviation Group.
"Our increasing level of inventory compliments our significant investment into development of our repair and overhaul capabilities for the Hawker aircraft" continued Kilgour.
The aircraft will be dismantled on site in South Africa by a crew from C&L, after which the parts will be transported back to C&L's Bangor, Maine facility for further work.