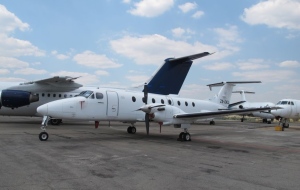 In a mid-August transaction C&L Aerospace (C&L) announces the purchase of a Beechcraft 1900C aircraft (msn UC-50). The aircraft was purchased from Thomas Aviation Services, LLC and was physically located in South Africa.
"This aircraft will be another teardown project to support existing and new customers operating the Beech 1900." said Kilgour, CEO and owner of C&L Aerospace.
"The Beech 1900 is still a very popular aircraft and is flown by operators all around the world. This transaction was a good opportunity for us to be able to supply well priced parts to these operators." added Kilgour.