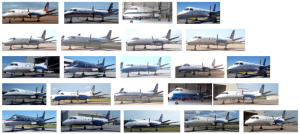 C&L Aerospace announced today their agreement to provide aircraft remarketing and management services to Pinnacle Airlines, Inc. C&L has signed an exclusive contract to market and sell the 23 Saab 340 aircraft once operated by Colgan Airlines, Inc throughout the world.
"I believe C&L is the ideal company to oversee the placement of these aircraft," expressed Chris Kilgour, CEO of C&L, "as the dominant player in the Saab 340 aftermarket C&L is perfectly placed to be able to place these aircraft either through outright sale or operating lease. With our worldwide marketing team we are aware of aircraft needs around the world" added Kilgour.
The aircraft are parked at C&L's Bangor facility and are on a storage program.