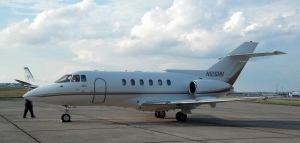 In a mid-August transaction C&L Aerospace (C&L) announces the purchase of its first Hawker 800A aircraft (msn 258034). With this purchase C&L has now opened the door to its newest line of business expanding into the Corporate Jet industry.
"This aircraft will be part of a teardown project to partout for customers in the Hawker business. We have formed a skilled team of mechanics to work on this new and exciting project which will open up new areas of business as our company continues to expand" said Kilgour, CEO and owner of C&L Aerospace. Andy McNinch, who moved from Texas to Maine in July 2012, has been appointed Program Manager of the Hawker Program and is quickly bringing this new product line into reality.
"The parts from these aircraft will be kept in our large Warehouse facility in Bangor and will be used to reach out and begin supporting those in the Hawker aircraft business around the world" added Kilgour.