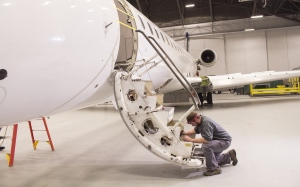 A CRJ 700 currently in C&L's hangar for heavy checks, modifications and painting marks the company's next phase of growth into the larger aircraft market.
Already known throughout the aviation industry for its service to Saab 340s, Dash 8s, and, more recently, CRJ 200s, C&L's $5-million expansion last year has allowed the company to apply its solid history of safety and excellence to larger aircraft.
C&L's 120,000-square-foot facility, completed in 2014, tripled its previous hangar capacity and added a 17,000-square-foot aircraft paint hangar capable of accommodating two CRJ 700s simultaneously. This growth, plus C&L's addition of nearly 20 skilled technicians, means that the company can service more and larger aircraft with increasing efficiency and shorter turnaround times.
Several more CRJ 700s are queued for service at C&L after the current aircraft leaves the hangar.