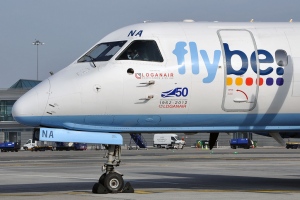 (Bangor, Maine, USA) C&L has signed a 5-year contract with Loganair for the overhaul of all landing gear on its Saab 340 fleet. The gear will be overhauled at the Heroux-Devtek facility in Runcorn, UK as part of C&L's global strategic alliance with the company.
C&L has a major share of the Saab 340 gear overhaul market and is the world's largest aftermarket parts and service provider for the aircraft.
"Saab 340 operators have welcomed our landing gear and overhaul program as a cost effective option to what has previously been offered in the market," said C&L CEO Chris Kilgour. "We have signed with many operators already, with more to come as we continue to look for ways to reduce the cost for operators of Saab 340 aircraft."
C&L's alliance with Heroux-Devtek was formed earlier this year as a way to enhance the global MRO services and support available to operators of Saab 340 aircraft.
According to Heroux-Devtek's announcement of the alliance in February: "The Saab 340 aircraft remains the most attractive option in the 30-seat class with no new aircraft available to replace it. More than 450 aircraft were built between 1983 and 1999. Héroux-Devtek remains committed to working with operators to manage the direct operating costs and provide a platform for many years of continued, cost effective, in-service life."