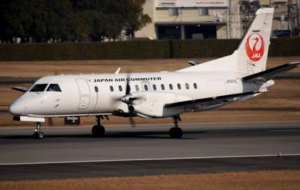 (Bangor, Maine, USA) Japan Air Commuter has chosen C&L Aerospace to provide power-by-the-hour services for its fleet of Saab 340 aircraft. The multi-year contract comes after JAC's extensive evaluation of the options, includes pool inventory and landing gear, and will cover 13 Saab aircraft.
C&L, headquartered in the USA, is the largest Saab 340 MRO in the world and a dominant player in Saab 340 after-market support. Its comprehensive and proven Saab 340 support make it an ideal partner for JAC.
"We have the ability to be flexible and responsive to JAC's requirements," said Jameel Wazir, Senior Vice President of C&L. "And our record shows that we can meet their high standards as well."
C&L has been supporting Saab operators for more than 10 years. Its 120,000-square-foot facility at Bangor International Airport in Bangor, Maine, equipped with the northeast's largest paint hangar and a fully stocked warehouse, makes C&L a one-stop-shop for Saab parts, maintenance and management.
"We are very excited to have a business relationship with C&L, which brings a more reliable program to our fleet," said Kazuhiko Hiyoshi, Senior Vice President of JAC.
JAC runs feeder services for Japan Airlines, operating 10 Saab 340Bs and managing three additional Saabs that belong to Hokkaido Air Commuter.