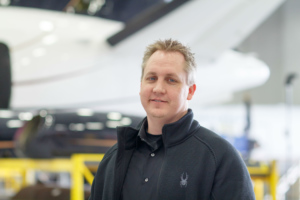 Jon Zeiher, C&L's Production Manager and Customer Liaison, describes his job as being the "air traffic controller" for every maintenance project in the hangar. Along with running the daily maintenance operations, he coordinates with each customer, keeping them aware of what needs to be done to their aircraft and where they are in the schedule.
"I am the dedicated go-to person for our customers," Jon says. "I understand the customer's needs, and I help them better understand their aircraft's needs."
Organizing multiple projects and communicating daily with clients keeps Jon busy, but he says open communication is one of the many reasons C&L is the best MRO in the industry.
"The biggest way we can help the customer is to keep the lines of communication open," Jon says. "C&L is committed to transparent communication, and that makes our customers feel understood. I'm communicating daily to let them know where in the check process we are and the timeline of completion, as well as any updates along the way."
According to Jon, C&L's Customer Portal is invaluable to the process. The online portal allows company representatives here at C&L's Bangor, Maine, headquarters to interact in real-time with their sending company to keep them in the loop, too.
The fast-pace of Jon's work is not new to him. He's been in the aviation community since joining the Air Force in 1999 as a Communication and Navigation Systems mechanic, and he once worked for an aerial firefighting unit.
"My work in the military and firefighting helped prepare me for the demands of my job today," Jon says. "It's never the same day twice."
Jon has also held management positions at Pinnacle and AAR. He has an Aviation Management degree and pilots license from Purdue. He earned his AMP license at Vincennes University in Indiana.
"I love helping customers," Jon says, "and I love aviation. It's the perfect fit for me."
Jon and his wife and three children live in Bangor, Maine.