You've purchased an aircraft part; now, you need it delivered. You may be wondering about shipping methods, hazardous shipment requirements, or factors for international delivery. This article addresses these concerns and more.
Aircraft Part Shipment Size
The weight and dimensions of the aircraft part determine what shipping method will best accommodate the size of the aircraft part. Shipments are either classified as "small package" or freight.
Whether a shipment is considered "small package" or freight will vary by service. However, "small package" is usually defined as less than 150 lbs. and does not exceed 108" by 165" in length. Freight shipments must be on pallets or in crates, weigh up to 20,000 lbs., and measure up to 21'.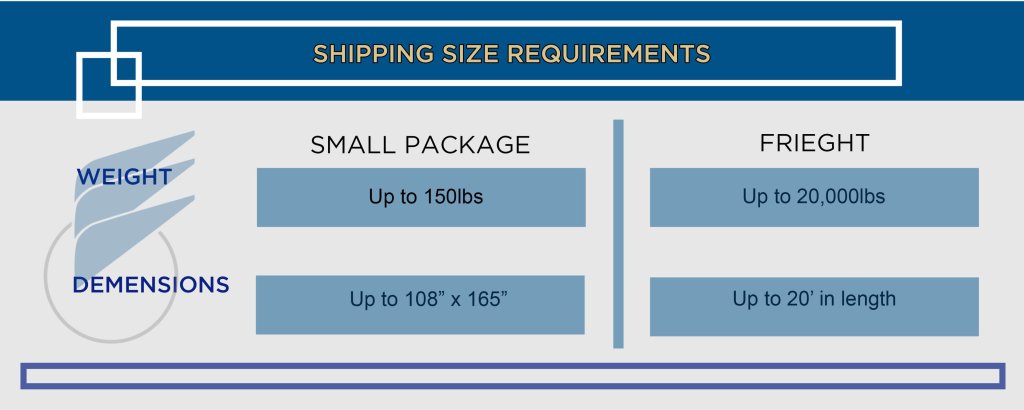 Type of Aircraft Part to Be Shipped
High Value or Fragile
High-value parts (e.g., engines) or fragile parts (e.g., gyroscopes) will require specific packaging, such as protective cases (e.g., fire-resistant, leak-resistant, etc.). Custom foam can protect fragile parts.
Hazmat
Hazardous material (hazmat) is a dangerous material or substance that poses a possible risk to health, safety, or property. Hazardous shipments must be appropriately classified and packed with labels that identify the type of hazard (e.g., flammable, explosive, poisonous, etc.). For example, full oxygen cylinders must be shipped in hard cases with fire-resistant packaging and labels indicating the contents as flammable.
Hazmat packages may require additional fees and need to be accompanied by extra paperwork. This paperwork may be lengthy to complete, potentially impacting how quickly the aircraft part is shipped.
Routine Purchasing and Restocking Inventories
Buyers may order parts for routine maintenance or to restock their inventory. Most suppliers will dispatch shipments the same day the order is placed– provided they can be shipped during regular working hours.
Aircraft-On-Ground (AOG) Situations
Aircraft-on-ground (AOG) parts get top priority, and suppliers ensure that the shipment is dispatched the same day the order is placed, sometimes outside regular working hours.
Buyers generally use their own couriers to deliver the shipment to its destination more quickly. Buyers should specify to suppliers when the courier will arrive to pick up the shipment.
Buyer's Preferred Shipping Method
Usually, buyers have a preferred shipper or courier with whom they have an account. Buyers can ask that shipments be put on their accounts to receive discounts from the shipper or courier or to access invoices and shipment details.
Aircraft Part Shipment Timeframe
How quickly an aircraft part is shipped and delivered may be impacted by the available modes of transportation, the part's location, and time zones.
Mode of Transportation
Aircraft part shipments are usually via ground or air delivery for domestic and international shipping. (Freight forwarders handle international shipments through customs.)
Modes of transportation will vary based on the location of shipment pick-up and delivery, especially across countries. For example, remote areas may only be accessible by air.
Shipping Location
Shipping location impacts more than available delivery options. It also factors into how long the delivery will take. For instance, shipments that cross borders will need to clear customs, potentially adding to the overall delivery time.
Always check the quote or ask the supplier for the aircraft part's current location to help estimate the shipment's arrival. If you need the aircraft part within a short timeframe, you may want to choose the supplier with the most conveniently located aircraft part.
Time Zones
What if the buyer orders from a company in the U.S., but the aircraft part is located in one of the company's international warehouses? Time zones impact whether the company in one country can have the part shipped the same day in another country. If the order is placed outside the other country's working hours, the aircraft part will likely not be shipped until the next day (except in AOG situations).
Factors for Shipping Costs
Shipping costs vary based on a few factors:
Type of aircraft part (classified as "small package" or freight, or if the aircraft part is hazmat)
Shipment option (i.e., ground vs. air delivery)
Expedited shipment.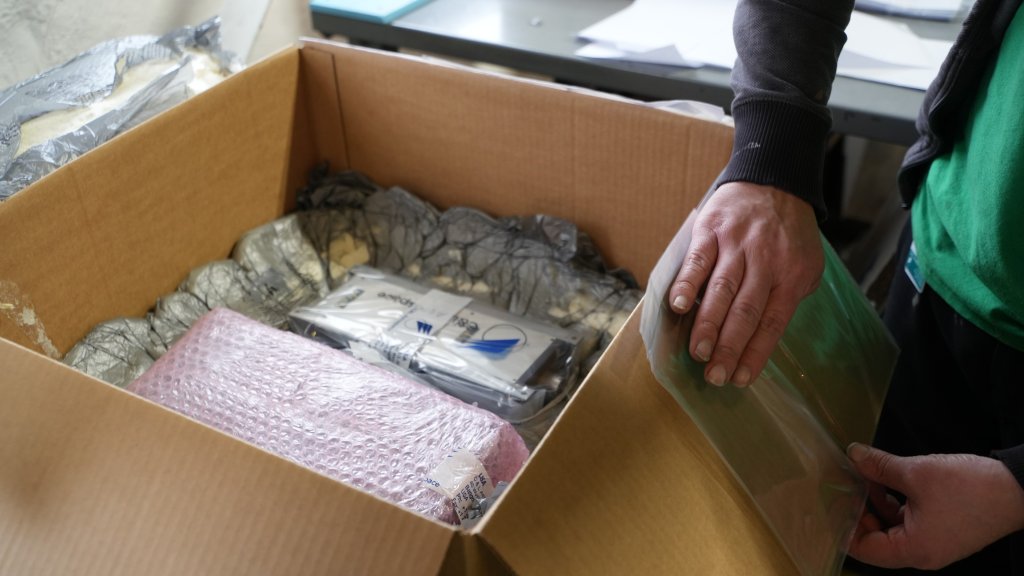 Documents for Shipping Aircraft Parts
Aircraft part shipments are accompanied by a commercial invoice. Freight (and some small package) shipments include a bill of lading (BOL). The shipper's letter of instruction (SLI) and electronic export information (EEI) must accompany the shipment for international delivery.
Bill of Lading (BOL) – A legal document containing information about the type of product being shipped, the quantity of the product, and its destination. It is required for freight and international shipments. Some 3rd party carriers will require it for small packages and domestic shipping.
Shipper's Letter of Instruction (SLI) – This document authorizes freight forwarders to act as the forwarding agents for the shipment through U.S. export and customs. The letter also provides instructions from the supplier describing how to handle the shipment.
Electronic Export Information (EEI) – This electronic declaration is required for exports out of the U.S. to a foreign country. Further, it must accompany shipments that are over $2,500 in value or require an export license.
Shipping Aircraft Parts Internationally
U.S. Government Guidelines and Regulations
International shipments are subject to U.S. government guidelines and regulations, specifying what can be shipped and what countries can receive shipments.
The supplier's compliance department may review international shipments based on the destination or end user. Any shipments defined as sensitive by the U.S. government may need a detailed end-user statement for the aircraft part to be approved for delivery.
Foreign Government Guidelines and Regulations
It is best practice to review foreign guidelines and regulations for exporting and importing aircraft parts. Some countries may not allow hazmat materials within their borders or will only allow certain aircraft parts to be delivered via specific modes of transportation. For example, some lithium batteries cannot be delivered via air; instead, they must be shipped by sea and/or ground freight.
Customs
The shipment must include all required information to clear customs. For instance, buyers must fill out compliance certifications for custom requirements.
Generally, information about the shipment is provided by the supplier. This information includes the aircraft part number, part description, quantity, origin of the part, and Schedule B number. (The U.S. uses a 10-digit Schedule B number to classify products for export.)
Missing or inaccurate information may cause long delays. Buyers should request an email containing a copy of the customs invoice. If the invoice accompanying the shipment is lost, the buyer can quickly send the digital copy to customs.
Incoterms®
Buyers should review and discuss the internationally recognized rules, known as Incoterms®, with suppliers. Incoterms® are widely-used terms of sale that define sellers' and buyers' responsibilities. They define who is responsible for paying for the shipment (freight costs and taxes), documentation, insurance, and customs clearance. They also define who bears any potential risks during transit.
There are 11 Incoterms® – 7 of which are applicable to any mode of transport. As an example, one Incoterm® that is commonly used at C&L is free carrier (FCA). Under FCA, the supplier is responsible for completing the commercial invoice while the buyer is responsible for paying freight costs, taxes, and duties and bearing any risks between when the shipment is dispatched and delivered.
You can learn about the other Incoterms® here.
Aircraft Part Shipping Advice
Provide All Necessary Delivery Information
Provide all necessary contact and delivery information. Commonly overlooked information includes
Name of the contact or person picking up/receiving the delivery
The exact address of the delivery location
Track Packages
Aircraft part suppliers will provide shipment tracking numbers to customers, and most shipping companies provide tracking for shipments. C&L offers physical, lightweight trackers to accompany high-value shipments.
Get Shipping Insurance
Sometimes shipments are lost or damaged, so shipping insurance for high-value or fragile aircraft parts may be worth the extra expense. It is best practice to ask the shipping company about insurance options. Some shipping companies have limited, low-value insurance as part of their shipping costs but may offer upgraded insurance options for more expensive shipments.
Additional Information
For more information, contact your aircraft parts supplier or check out the websites of shippers and couriers.
For More Information, Please Fill Out the Form Below