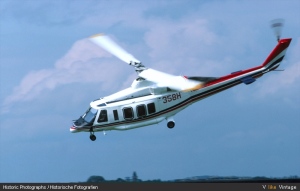 C&L Aerospace (C&L) , with its head office located in Brisbane Australia, announced today that it has finalized a deal to purchase the entire Bell 214ST inventory from McDermott Aviation, also based in Australia. Containing over 4000 line items, the inventory was a large package which included most major components including two complete CT7-2A engines. Also included was a large amount of factory new parts purchased from Bell Helicopter.
"The Bell 214ST is not an aircraft that we have typically dealt in before, however; because of the scarcity of parts for this helicopter and the commonality of the CT7 engine with our existing business we decided this would be a good investment" said Chris Kilgour, CEO of C&L.
"We have existing relationships with the small community of Bell 214ST operators and look forward to building on that relationship as one of the largest stock lists of parts for this type in the world" continued Kilgour.
The Bell 214ST is a medium lift, twin engine helicopter which can seat up to 18 passengers. With 100 built between 1981 and 1991, there are only about 35 Bell 214ST helicopters still operating around the world. Most operate in the middle east in support of the war effort.