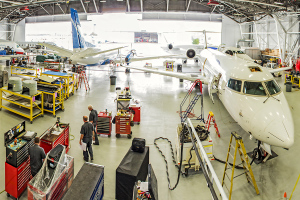 (Bangor, Maine, USA) C&L Aviation Services, part of a global, $30-million aircraft parts and maintenance facility located in Bangor, Maine, will hire six full-time Aircraft Maintenance Technician apprentices this summer. After initially promising in 2010 to create 50 new jobs in the area, C&L has well exceeded that number with more than 120 full-time employees and by training the next generation of aircraft technicians.
Apprentices will work toward FAA Airframe & Powerplant certification as they perform aircraft maintenance at C&L's 120,000 square-foot complex and under the guidance of FAA licensed technicians. In addition to performing various aircraft maintenance, apprentices will also be responsible for completing scheduled inspections on airframes, engines, and landing gear.
Candidates must have good mechanical aptitude and interest using various handheld tools, either through hobby or work.  They must have high school diploma or equivalent, be able to read and write in English, and pass FAA mandated pre-employment & random Drug and Alcohol testing.
For more information, please visit https://cla.aero/jobs/aircraft-maintenance-technician-apprentice/